Volleyball dominates UND Classic tournament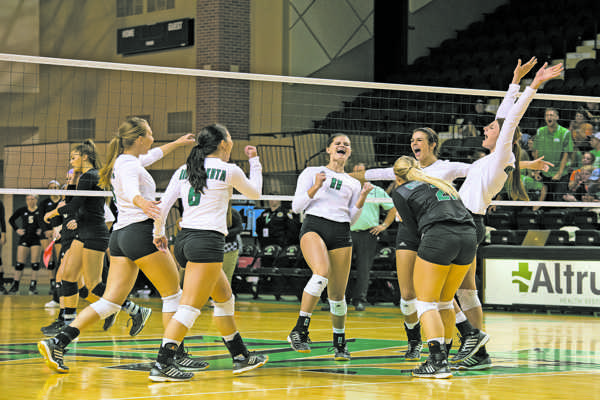 Courtney Place, Chelsea Moser lead the way in routs of visiting teams. Photo by Nick Nelson/ The Dakota Student
The University of North Dakota volleyball team was able to not only win the UND classic, they won it in an absolutely dominating fashion.
The tournament featured four visiting teams including, Drake, Green Bay, South Dakota, and Jacksonville State.
UND started their quest to secure the tournament with a shootout against Green Bay. After losing in a thrilling first set, 27-25, the Green and White came back to take the next two sets, winning by scores of 26-24 and 25-18.
However Volleyball is a best of five series which called for UND to go out and win just one more game but Green Bay would have something to say about that. The two teams would fight it out in another down to the wire set with a score of 29-27. But in the final set UND persevered through to win 15-11.
"This win much less to do with coaching staff and everything with the strength staff…" said Head Coach Mike Pryor.
With the victory, UND moved on to play Drake in the next match. It was smooth sailings from there on out as the team cruised past to sweep Drake with the final scores being 25-22, 25-17, and 25-21.
As you can expect coach Pryor was excited with how UND performed saying, "I liked that we fought back in the third trying to finish it in three, and kind of conserve our legs for a really good South Dakota team."
There would be no slowing down for the Green and White, as the squad on win in another sweep, defeating South Dakota 25-19, 25-17, and 25-19.
Blocking was the main thing that coach Pryor was happy about saying, "We'd been working on it and working on it and it was something that hadn't clicked. Finally it did, and then all of a sudden it was like the floodgates opened up a little bit."
"That really set the tone because they really got tentative in the last two sets after seeing we got a hold of them," Pryor said.
UND finished with 12 blocks which almost doubled South Dakota's count at 6.5
The nail was put into the coffin on Saturday against Jacksonville State as UND pulled away with it's third straight 3-0 victory rolling away by the scores of 25-22, 25-16, and 25-18.
With the sweep, UND won the tournament cumulatively with a 12-2 record and outscoring its opponents 318-280. With the dominating performance, UND moves to 7-4 and still remains undefeated at home at 5-0.
UND looks to improve their road record as the Green and White go on the road until October when they face off against Montana.
Jack Harvey is a sports writer for The Dakota Student. He can be reached at [email protected]