UND swings trip to WAC tourney
Baseball team clinches spot in conference tournament after successful weekend at home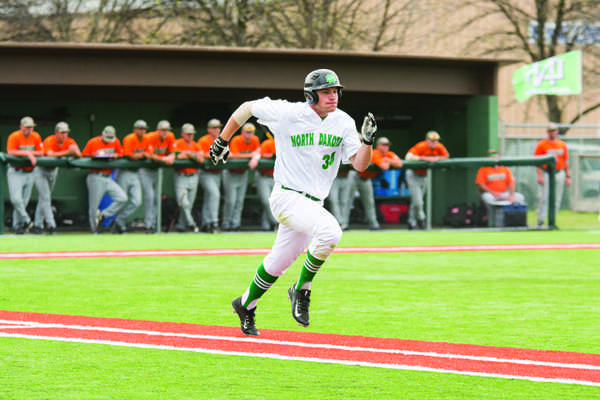 UND sophomore Hunter Walsh runs to first base last weekend at Kraft Memorial Field. Photo by Nicholas Nelson/The Dakota Student.
After not being able to make it in its first year, the UND baseball team has clinched a spot in the WAC tournament later this month.
UND was able to punch its first ticket to the tournament since switching over to the conference last season.
North Dakota has overcome huge obstacles from early in the season, with pitching and timely hitting.
The team started out the season dismally in the conference at 3-6, and was outscored by its opponents by a score of 74-39 in those first nine games.
However, UND coach Jeff Dodson has righted the ship, and he and his crew have been able to turn the season around by winning every series since.
"It's been really good," Dodson said after Saturday's game against Texas-Pan American. "We had to battle through some things early on in the season. Our guys have really settled in. We spent a lot of time with them talking more about mentality."
Tyler Follis was able to put his name atop the long list of all-time hits leaders for UND.
Despite the achievement, Follis had more of a team mentality after the game.
"Feels good to have," Follis said. "But we've got a big chance to secure a bye so that's the top priority right now. Records are cool, but winning a WAC championship is the big goal."
The team only has a few games left to climb the standings.
North Dakota will close out the season at home against Utah Valley and then travel out to New Mexico State to take on the Aggies.
Both Utah Valley and New Mexico State rank below UND in the standings. But that doesn't exactly mean it will be a cakewalk for the Green and White.
Utah Valley is just below the bubble and hopes to make a late surge to get into the playoffs, while New Mexico State will surely be looking to end the season on a high note.
Dodson said the team's ability to execute will be critical.
"You can talk about it all you want to, but you got to actually go out and do it," Dodson said. "That's what they've done."
Jack Harvey is a staff writer for The Dakota Student. He can be reached at [email protected].