UND Ends the Regular Season with a Win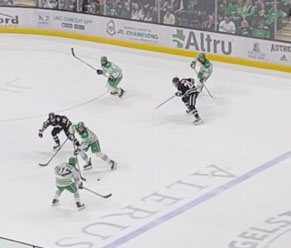 In the final game of the season, UND held their season's fate in their hands. If they won, they would secure a favorable matchup for the first round of playoffs, going to either St. Cloud or Omaha in the first weekend instead of Kalamazoo. It was also senior night with Judd Caulfeild, Ethan Frisch, Chris Jandric, and Carson Albrecht being honored for their time playing at UND. Three of those players had points on the night, with both of UND's goal scorers coming from that group of Seniors. Not only did UND continue their unbeaten streak and win the last home game for the seniors, but they did it with their first regulation win in 5 games. The University of North Dakota defeated the University of Nebraska Omaha 2-1 with a final shot count of 32-29 in favor of UND.  
In recent games, UND has looked like a team playing for their playoff lives, knowing they would not make the NCAA tournament on pairwise alone this year, and if they wanted to compete for the national championship, they would have to win the NCHC tournament. Going down the stretch, Goaltender Drew DeRidder is putting up consistent games, and their defense has improved leaps and bounds. They are committing to the systems which have given them past success. However, despite huge improvements in the team's play, they were not able to get a regulation win in the five games before.   
The night prior, Frisch talked about the team's struggle to close out a game in 60 minutes. "We need to learn how to finish them in 60," he said. "There's some things we need to clean up defensively to make sure we can do that."  
The start to this game was more anti-climactic than Friday's goal in the first minute and a half of play. In fact, the game remained scoreless until the third period when Frisch, who played consistently well defensively throughout the game, opened the scoring off an assist from Albrecht.  
When asked about his goal, Frisch gave much of the credit to his teammate and fellow senior Albrecht. "That was all Carson," Frisch said. "That was a pretty easy one for me just to shoot cross seem, that's pretty hard for a goalie to stop on any shot."  
Even though Frisch was humble about scoring the first goal of the game, everyone could see how much scoring on senior night meant to him.  
"Frischy [Ethan Frisch] is generally a happy kid, but seeing his face after he scored that goal was incredible. You could just see the joy and everything, the passion and everything," 5th year senior goaltender DeRidder said. Even though Frisch gave UND the lead, Omaha answered back with Matt Miller scoring off a rebound chance to tie the game.  
UND was determined to win this in regulation, and the game winning goal came off the stick of Jandric from an assist by Freshman Owen McLaughlin.  
"I give 99.9% to Omac (McLaughlin) there. He made a huge play…toe drag and then just throw it back and then I just tap it in," Jandric said on his game winning goal.  
Even though Omaha pulled their goalie and made a push 6 on 5. UND was able to close it out and secure a regulation win on senior night.  
Their victory over Omaha on Saturday secured that their matchup for the first round of playoffs would be Omaha all over again, dodging Western Michigan. Despite the playoff stakes riding on this game, it was a good win for the seniors who dedicated so much to this team and program. While this season was certainly a ride, it ends on a tremendously hopeful high note.  
Maeve Hushman is a Dakota Student Sports Reporter. She can be reached at [email protected].