McVey or McNay 
McVey's open house was a display for students of UND and community of Grand Forks  
Construction season is coming to a close out here in the Midwest as the winter drawls in, and one of the University's most recent construction projects was ready to be shown off to the public this past week. On October 18th, UND's housing department held tours for both the students and the public to show off their new and improved residence hall: McVey. Dakota Student Photographer, Victoria Ledum, and I attended this event to get an idea of what we could expect out of this building and its neighbor West.  
For those that attended, the event had housing employees posted throughout the first floor of McVey Hall to show off rooms, common spaces, and the kitchen. They even provided refreshments and food to attendees. If you did not make it to the 4 pm start time in Wilkerson Commons, figuring out what door to enter in was a bit of a hassle. After Ledum and I finally found the back door where we got in through, we were ushered to a showroom.  
The showrooms have a very modern feel. With grey wooden floors and matching modernized closets, it feels like you are in a fancy hotel more than your dorm room. The bathrooms have also been renovated, and the overall feel of the room was g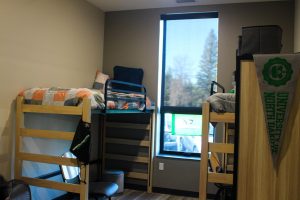 iving 'Ikea.' The closets themselves seemed tiny compared to others I have seen in adjoining halls, and they were difficult to open. We noticed that many of the rooms that we walked into had equipment that was broken, but how could it already be broken if they have not even opened the hall to students?
As you wander through the halls, it continues to feel like a 'Hampton Inn'. The walls, in bright Kelly Green, there are indicators of which rooms are in which directions, as well as signs that point towards the kitchen and other halls. The common spaces are large and beautiful, but the kitchen was the show-stopper for me. The kitchens feel like something straight off the food network.  
Something to note about this event is that McVey is still considered a construction site. Therefore, we were confined to the first floor, however, many people I had talked to found themselves on the second floor at times or even in a different hall entirely. At one point, Ledum and I found ourselves in Brannon Hall. Brannon is currently open and operating with students living there, so there is a question for the student safety at this event as well. Anyone from the public would have been able to get into the dorm, anyone.  
Overall, the dorm is sure to be an interesting place to live. Students will start moving in soon, right before Thanksgiving break. A nice way to spend their time while preparing for finals. I am sure freshmen and incoming students will fall in love with this dorm. Goodbye Bek and Hancock, and hello to the new McVey! 
Claire Arneson is a Dakota Student Editor. She can be reached at [email protected].