Spooky Attractions Near You!  
Grand Forks and its surrounding areas offer a plethora of fun fall activities for family and friends 
Well, it is that time of year, folks! The leaves are starting to fall, it is getting colder, and the seasonal depression is beginning to kick in, but there is also fun during this time filled with pumpkin spice and stress. With Halloween being one month away, the time to figure out your group costumes and schedule your events is now! As a Halloween enthusiast, I often wonder what spooky and trendy attractions are in my area that can put me in the spirit. For those of you looking for something to do, or want to get a good scare in before midterms, here are some fun places to visit and activities to do in the beautiful month of October.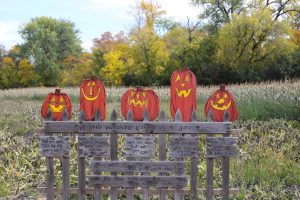 To begin, we must talk about Nelson Pumpkin Patch. Nelson's Pumpkin Patch is located at 2448 20th Ave NE Emerado, ND, 58228. This pumpkin patch is a favorite here at UND. Whether you go for the food, the maze, or just to take cute pictures with a hay bale, Nelson's Pumpkin patch has something for you to do. The Nelson family started their farm in 1880 but opened it to school kids for the first time in 1996. Their website says, "We are very passionate about our business. We want the Pumpkin Patch to be a place for families to come spend quality time together, making lasting memories. We also want it to be a place for kids and adults to reconnect with our agricultural heritage" (2022).   
The pumpkin patch has an elaborate corn maze, concessions such as mini donuts, and a haunted house. This place is perfect for families, and college students who are looking for something to do. Keep your eye on the Student Involvement office, for they will be giving out vouchers here soon! If you missed the voucher, admission is only $10! Nelson's Pumpkin Patch also puts on events. An upcoming one being Pooches in the Patch where dogs from Journey Home Annual Rescue will be looking for new homes! As someone who has visited this pumpkin patch, I can honestly say that it is fun and will keep you entertained for the afternoon. It is definitely a must-see come Fall!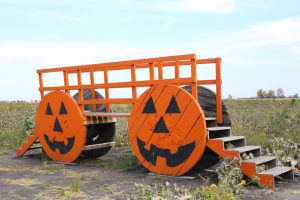 For those who like all things scary, there are two main places in the area to consider. For starters, Acres of Terror located at 108 Highway 18 S Leonard, ND, 58052. It is known for their spooky walk-through attractions. Similar to a haunted house, guests walk through and encounter monsters throughout their stay. From the website, "Acres of Terror has everything from a scary corn maze to an old abandoned school, all decorated and ready for tours. More than 30 actors ready to put on a show as guests come through. Lace up your shoes and be ready for a great time! Join us in Leonard as we bring you the scariest haunted attraction in the Red River Valley since 2003," (2022). They are open now until October 29th. Tickets are $30 for adults and $15 for children.   
Another haunting attraction nearby is the Haunted Farm located at 1947 130th Ave S Moorehead, MN, 56560. This is similar to Acres of Terror, but they have many attractions to keep the night going! They say, "the Haunted Farm is a genuine farm of terror with thirty years of experience in the haunting industry. The farm features various shocking creatures that lurk in woods, 15 energetic and spine-tingling haunted attractions, and a most hair raising walk through the dark and dangerous woods" (2022). Admission is $22 and face masks are required.   
As for events going on around campus, Greek Life is hosting their Drive-In Movie at the Alerus Center on October 4th! They will be showing Monsters University and all UND students and the Grand Forks Community are able to attend. There will also be a concession stand with all the movie snacks you could want! The lot opens at 6:30 pm and the movie will show once the sun goes down.   
At the Empire Arts Center, they will continue to do their yearly performance of the Rocky Horror Picture Show Live! Rocky Horror Picture Show is a Halloween classic that has amazing music, big laughs, and will "Time Warp" you into a good time. There will be showings at 7 pm for general audiences, and midnight for mature audiences! The show runs from Saturday, October 29th to Sunday, October 30th with two shows each night! Tickets are $16 apiece. Whether you want to scare your socks off or take trendy pictures for Instagram, there are places around here to fulfill your Fall cravings! The beautiful fall weather will soon turn to cold and snowy, so make sure to get out while you can! 
Claire Arneson is a Dakota Student Editor. She can be reached at [email protected].