North Dakota Basketball Drops Final Contest to NDSU; Celebrates Seniors
The final game of the regular season for UND against NDSU reflected past games in the Summit League this season. The team looked outsized and outmatched in nearly every phase of the game. Coming in as only 10-point underdogs, however, there were thoughts of a potential upset. Not just an upset, an upset against the biggest rival on UND's home court on Senior Day. There would be no better way to end a disappointing season than to knock off a rival as an underdog, sending them down in the Summit League standings before the tournament.  
Coming into the game, UND had no chance of entering the Summit League Tournament, as only the top eight teams in the conference compete for the single bid to go dancing. This game was about pride and playing with nothing to lose. Down nine points at halftime, the window was open for UND to pull it off. Despite being outsized and outrebounded, UND hung tough with NDSU for the first 20 minutes. Unfortunately for UND, the first 20 minutes was the extent of it.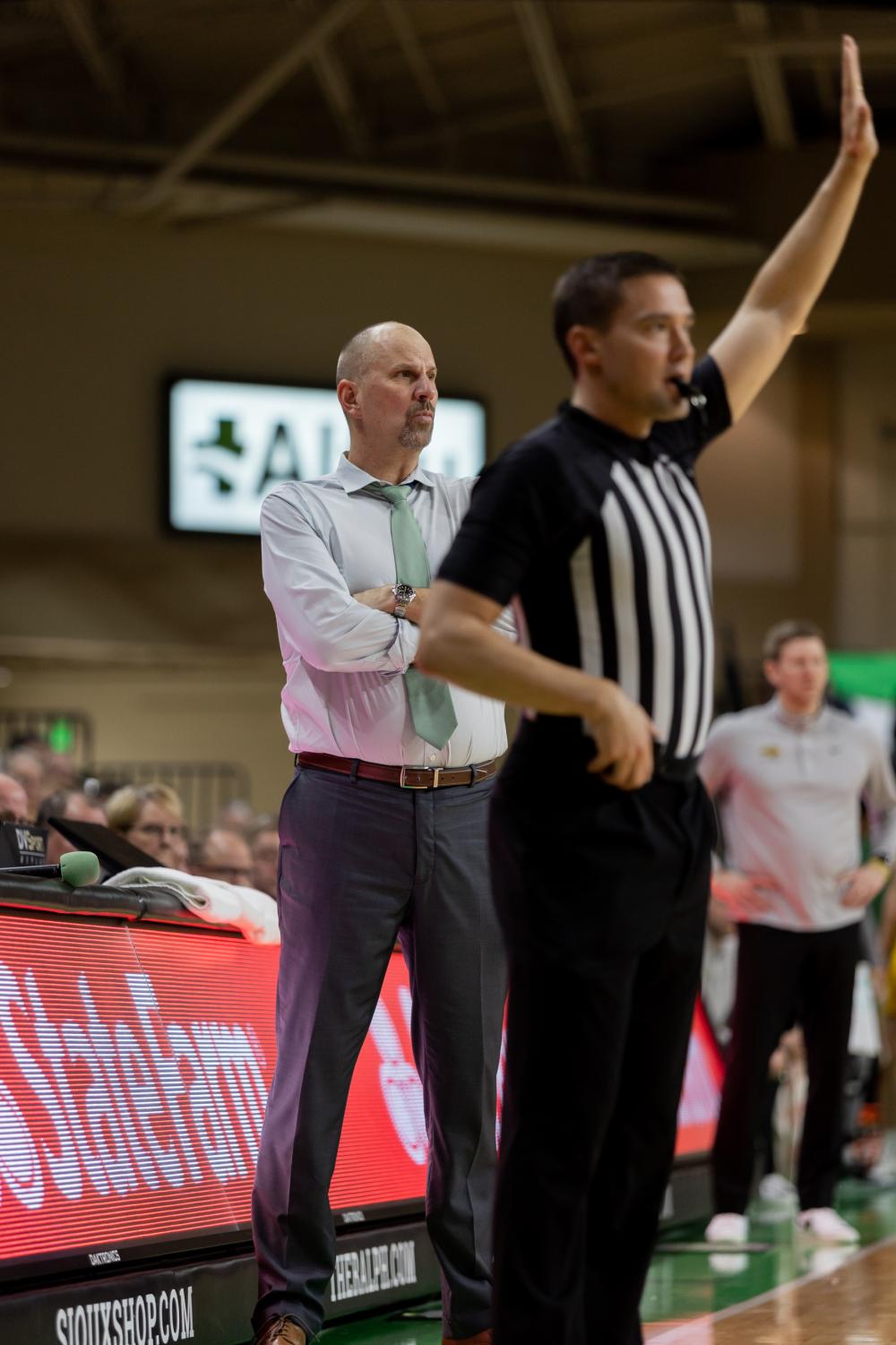 NDSU opened the second half on a 14-0 run in the first 4:06, and UND found itself in a 23-point hole before the under 16 media timeout. From then on, it was all North Dakota State. The closest the game got beyond that point was a 22-point lead for the Bison. When your opponent shoots 48 percent from three-point range and 51 percent overall from the field, winning is not an easy task, and that showed itself in the second half. NDSU got hot from downtown early and shot 53 percent from three in the last 20 minutes of the game.  
Grant Nelson led the scoring for the Bison with 17 points while shooting 4/5 from long range. Tyree Eady, Rocky Kreuser, and Jarius Cook were the other Bison to score in double figures, netting 10 points each.  
Fittingly, in his final game at UND, senior Ethan Igbanugo led the team in scoring with 16 points. Fifth year senior Bentiu Panoam also scored nine points on 4/6 shooting, despite being injured in Tuesday's game against St. Thomas.
Behind Igbanugo, UND's other top scorers were Paul Bruns (11 points) and Brady Danielson (10 points). Bruns also set the new UND record for points scored in a single season as a freshman with 460 points this season.  
Mitchell Sueker, Ethan Igbanugo, and Bentiu Panoam each had a unique impact on their teammates during their time in Grand Forks. When asked about his experiences at UND and what it was like to play with his teammates, Igbanugo replied, "I have met guys on this team that will be my friends for life. Lifelong friends for sure." Despite being injured, Mitchell Sueker was a vocal leader for the team offering encouragement and motivation at every moment. Panoam was a floor general on the court and off, embodying every aspect of toughness a coach would want in a point guard.
It was certainly an emotional setting as UND honored its three seniors before the game and said goodbye afterwards. Both Panoam and Igbanugo received standing ovations from The Betty crowd as they exited the game for the final time. They were met with embraces by Coach Sather and the rest of the team as they made their way to the bench. Now, it is up to players like Paul Bruns, Matt Norman, Brady Danielson, and Caleb Nero to continue developing their game and give North Dakota a chance to get back to the NCAA Tournament for the first time since 2017. 
Daniel Krivacs is a Dakota Student General Reporter. He can be reached at [email protected]