Johnny Depp Forced to Resign by Warner Brothers
Multimillion-dollar actor, Johnny Depp, has been asked to resign from the Fantastic Beasts franchise by Warner Brothers, following the loss of his most recent lengthy court battle. Depp had sued British tabloid, The Sun, for an article released in 2018, labeling him as a "wife-beater".  
The article released by The Sun was the fuel to a more recent three-week court case involving Depp and ex-wife, Amber Heard. Johnny Depp and Amber Heard, both successful actors, met on set of "The Rum Diary", married in 2015, quickly followed by their divorce in 2017. Throughout their marriage, Heard disclosed that Depp was abusive and viscous, a result of his previous routine alcohol and drug abuse. Depp denied all abuse accusations in court, explaining that Heard was the perpetrator in the relationship and he suffered as an abuse victim throughout their marriage.  
The judge of the libel case dismissed all of Depp's complaints against The Sun, as well as his accusations against his ex-wife. Under the circumstance stated by the judge that "the great majority" of Amber Heard's claims of assault could be "proved to the civil standard", Depp was defeated. After the conclusion of the case, The Sun called the decision a "stunning victory for press freedom" and showed that they have supported and campaigned for victims of domestic abuse situations for more than 20 years. Tabloid spokespeople also supported the judge's ruling, one stating, "domestic abuse victims must never be silenced, and we thank the Judge for his careful consideration and thank Amber Heard for her courage in giving evidence to the court,".  
Following Depp's recent loss in court, Warner Brothers have asked him to resign from his contract with JK Rowling's "Fantastic Beasts" franchise, where he was currently signed on in the third installment. Their request gave the public the impression that Depp had been "tried, convicted, and sentenced" for domestic violence, which has not yet been the case.  
Author Rowling and Director of the "Fantastic Beasts" franchise, David Yates, had previously supported Depp through his past legal trials and welcomed him as an actor in their films. Yates spoke in 2017 saying, "honestly, there's an issue at the moment where there's a lot of people being accused of things, they're being accused by multiple victims, and it's compelling and frightening. With Johnny, it seems to me there was one person who took a pop at him and claimed something. I can only tell you about the man I see every day: He's full of decency and kindness, and that's all I see. Whatever accusation was out there, doesn't tally with the kind of human being I've been working with". Rowling fully supported Yates's claims, adding that "based on our understanding of the circumstances, the filmmakers and I are not only comfortable sticking with our original casting but genuinely happy to have Johnny playing a major character in the movies.".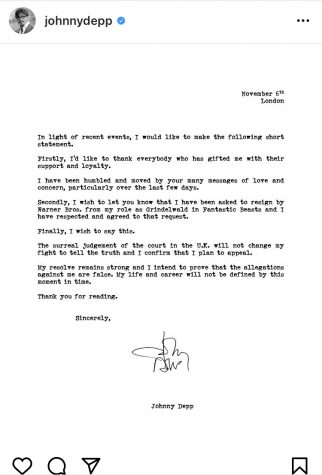 There has been no evidence that Rowling or Yates gave Warner Brothers any push back for severing ties with the actor. Depp officially announced his resignation from the franchise on November 6, 2020, publicly sharing the news on his social media, expressing an appreciation for his fans.  
Depp explained that this momentary blow was not going to affect his continuing career and concluded that he plans to appeal his ruling. His resignation from the franchise has sparked social media reforms supporting #JusticeForJohnnyDepp, as well as numerous online attacks toward Heard for her court accusations. Petitions are flooding social media to remove her from her upcoming role in "Aquaman 2".  
Brooke Kruger is a Dakota Student Opinion Writer. She can be reached at [email protected]