New Memorial Union Updates
A guide to all the changes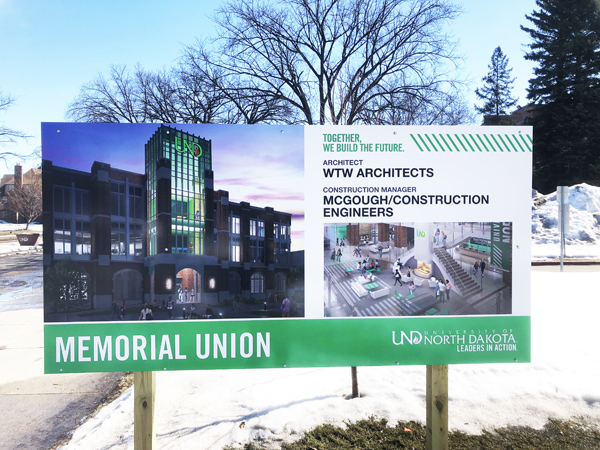 With 2,439 students voting yes on Nov. 20, 2018 for a new Memorial Union, it is time for construction. As the construction date creeps closer and closer, many questions arise about updates on the changes that are going to be happening soon. With big changes occurring, calls for important approvals from the State Board of Higher Education and the North Dakota Legislature. These approvals are currently underway and should be finalized by spring of 2019. If all approvals are accepted, construction for the new Memorial Union will be in full swing.
The demolition date for the current Union is proposed for July 1, 2019, but in the meantime, planning and relocating is taking place. The entire building design is expected to be set by May 2019 and the current Memorial Union will be closed at the end of spring semester and vacated with services/occupants relocated to other campus buildings. This will take place throughout Summer 2019. Some services and occupants have already been moved to other areas such as Associate Dean of Students & Director of Student Involvement & Parent Programs have been moved to McCannel 280, and One Stop Student Services is now located in Twamley 204. More information about the new locations can be found on UND's website under the campus renewal and construction blog that is updated frequently.
Some areas of the current Memorial Union have already begun the vacating process. As of March 7, the third floor of the Memorial Union has been cleared out and is currently closed for public access and will remain closed. Over the last couple months of the spring semester, more and more areas of the current Union will be cleared out and be inaccessible to the public. "I have already noticed small changes in the current Memorial Union, such as posters being taken down from the walls," UND sophomore Emily Veronen said. "Seeing this makes me really excited to see the finished product and to see students utilizing the new features to their academic advantage because I spend a majority of my time in the study rooms there."
Looking ahead, specifically spring semester 2021, the new 158,000-square-foot Memorial Union should be up and running and open for student use. A few perks to be looking forward to are expanded study and meeting space, improved dining and cafe options, student organization space and improved drop-off area and accessible entrances.
Another exciting new feature coming to the new Memorial Union is a convertible ballroom. Many events are held in the Memorial Union ballroom and this new, larger ballroom will allow seating for 650 guests and can be converted into smaller meeting rooms for events of all sizes.
"I have been to several events in the current ballroom of the Memorial Union, anywhere from band concerts to hypnotists, and it is just a really nice area for a wide ray of events to be held in," Abbi Smith, UND freshman said. "I think it is very smart for UND to plan for the convertible ballroom. This will allow for even more of a variety of events to be held there."
Additional information about the new Memorial Union updates can be accessed on the UND website or by contacting student body President Erik Hanson.