The Day After
Why Feb. 15 is better than the actual holiday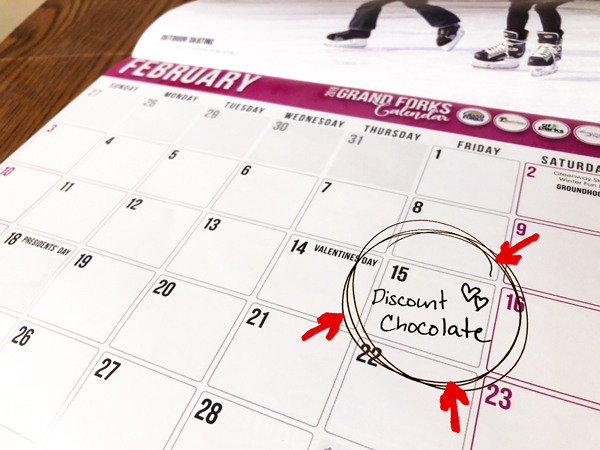 Let me start out by saying I hate Valentines day. I hate it. I don't get it. I never understood why people celebrate a day of love. Ew. Gross. Not me at all. But I will say that the best part about Valentine's day is the day after. The wonderful day of Feb. 15.
The day of discounted candy. How wonderful is it that candy like Kit-Kats and Starbursts are discounted simply because of the wrapping. How amazing! Candy that tastes the exact same is discounted because the foil around the sweet treat is pink with hearts and not the original logo.
Honestly, it is the best time to treat yourself. Feb. 15 is the day when candy and stuffed animals go on sale because of a heart on it. Last year, I went out to Target and bought a heart shaped box of fun sized Kit Kats for me and two small stuffed animals for my dogs. I only spent six dollars for all three items. How great! They were all 75 percent off. How awesome. I still got candy, just 24 hours later. I still got stuffed animals but I have zero use for them, but my dogs get very protective of their toys so why not treat them.
Don't get me wrong, I don't mind love. I guess it can kind of be cute. Key words: kind of. Seeing two people incredibly happy with each other sometimes brings a smile to my face. But all in moderation. Valentine's Day is a day where people are allowed to show their PDA. That is where I am out. Nope. Not for me at all. Why on earth would you give a day for people to do that. Why! I just don't get it.
Also, I love the 15th because that is when I get my cards with a couple of bucks in it. That is truly the best. I get a coffee paid for me by someone else. Usually on the 15th, I get a cute package from my mom and her teacher friends that are all decked out in glitter stickers and punny phrases. That is what I look forward to the most during the Valentine's season. I get homemade snacks from a bunch of moms and candy and usually a random item that makes you think, "really…why?" But it never fails to bring a smile to my face during this dreadful holiday.
This year, I will choose to stay indoors watching Say Yes to the Dress and eating Angie's Kettle Corn and maybe consider ordering a heart-shaped pizza, and that to me is the perfect way to spend Valentine's Day. I don't know about you, but I am poor. I cannot afford to go out to eat or get all glammed up for a night out with my friends. I would much rather pitch in four dollars for a pizza and hang out then spend a bunch of money on a fine dining experience.