A new partnership takes off
Sun Country brings bridge program to UND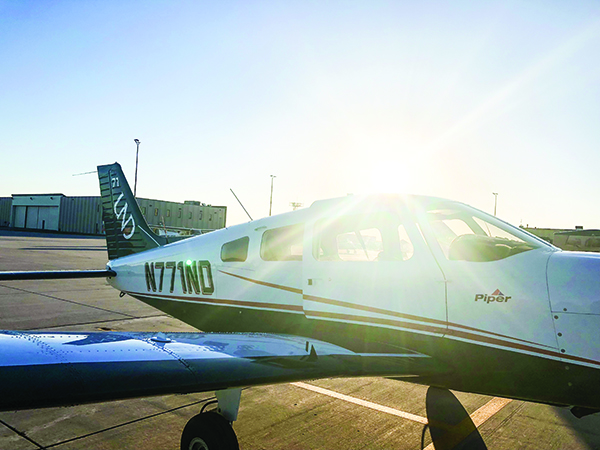 As the John D. Odegard School of Aerospace Sciences celebrates 50 years of excellence, they also celebrate a new partnership with Sun Country Airlines. The partnership marks the beginning of a new program offered to commercial aviation students, known as the Sun Country Bridge Program. The program entails that students will have the opportunity to lock down full-time time employment prior to graduating. Students will then go straight to a national carrier and be able to fly international routes and be given the opportunity to become captain after two years.
"This partnership is a big win for us," Paul Lindseth, dean of the Odegard School, said in a statement. "We're thrilled to be able to tell our students about this opportunity and help them secure employment with one of the nation's top airlines."
UND Aerospace has also announced partnerships with Delta and United Airlines earlier this year, but this specific partnership is different because students will be able to fly a  Boeing 737 shortly after graduation. It is also unique because it combats the shortage issue when it comes to flight instructors. Last year there was an alarming demand for flight instructors as many students were breaking the traditional career path. There was a boom in hiring for major airlines which caused students to accelerate their time as instructors to land a job. This left many aviation programs scrambling for instructors.
"That's the big thing," Jeremy Roesler, chief flight instructor at UND, said. "This is the first time we've seen a program that specifically targets keeping experienced instructors around."
The program is structured around the idea that once students have completed 200 hours of flying, they will earn their commercial pilot certificate with an instrument rating. Along with the certificate they will also be able to interview with Sun Country. This takes place through the career counseling officers when there are openings in the program. Once students have been accepted into the program and once they have completed 1,000 flight hours, they will be able to start receiving flight benefits as they continue their work instructing at UND. Once they have completed 1,500 hours they will attend Boeing 737 training classes at sun country.
"It's a tremendous opportunity," Jim Higgins, aviation department chair said. "I can't thank Sun Country enough for being such a great partner."
With 40 percent of Sun Country's pilots having UND ties, there was open conversation with the airline over the last year, with the idea to find a solution to the flight instructor shortage the partnership came to life.
"Quality training is a top priority for us," Sun Country Airlines Chief Operating Officer John Spanjers said in a statement. "We're excited to work with a school that has long been known for its outstanding aviation program. Having the opportunity to meet and mentor students early on in their career sets the foundation for their long-term success."
With excitement from all parties, the agreement goes into effect immediately.