Playing in the Pumpkin Patch
A look at what Nelson's has to offer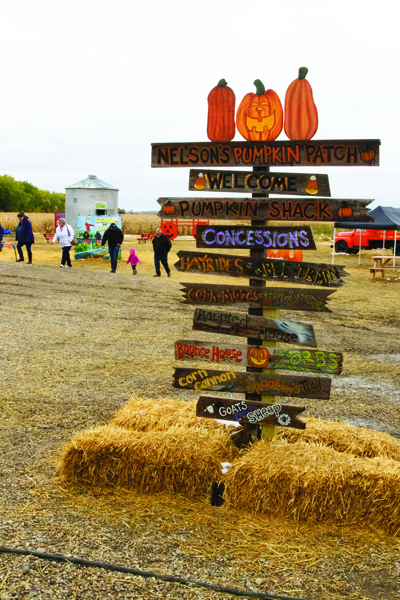 Nothing screams fall more than pumpkins, corn mazes, pumpkins and haunted houses. Imagine if there was a place where you could get your fix of fall in just one stop. If you visit Nelson's Pumpkin Patch you can do just that.
This is the patch's 22nd season and there are many fun activities to do, but it didn't always start out this way.
Carrie Nelson owns the patch along with her husband Todd. The patch got started when Nelson would bring her second grade class to the patch to look at the pumpkins. Once she did this, other teachers heard about it and would ask if they could bring their students too. As soon as this started happening, Nelson realized that this could be a way for her to make some extra money on the side while she was teaching.
"I asked my husband if I could have this little shack and then I asked him if I could have a little pumpkin truck back there and we planted a few vines in the back," Nelson said. "And then I asked if he would plant a few more vines."
Just by bringing her students there and other teachers joining in, people started asking if they could stop by as well. Nelson would leave an envelope on a straw bail when she wasn't home and people would come and pick pumpkins and leave money in the envelope. It was like that for the first couple of years until more and more people heard about the patch and wanted to come pick pumpkins. Nelson then started opening the patch for a few hours here and there until the patch suddenly began to get popular and the rest is history.
There are many attractions at Nelson's Pumpkin Patch. Of course, there are many pumpkins that are for sale, as well as gourds, but they also have a hayride that does a little loop along the edge of the corn and there are different painted hay bales including a minion from Despicable Me. There are animals to look at as well as different games including a corn launcher. A haunted house, concessions, and the Hay Bale Theatre that plays the Spookley the Square Pumpkin Movie.
Nelson's favorite part of the patch this year is the Spookley trail which has different activities that go along with each page in the book. She would read Spookley the Square Pumpkin to her second graders and she incorporated it into a fun activity for people of all ages.
Along with all of those activities, there is also a corn maze. Nelson designs the shape of the maze each year while her husband cuts it. It requires a lot of preparation and it has to be mowed five to six times each season, which in this case would be summer.
They have activities for people of all ages which makes it a great place for families and as well as the Grand Forks community.
"Sometimes I don't even realize how it adds to the community," Nelson said.
Yesterday, Nelson was tagged in a video of a gender reveal which was done at the patch and she said it had made her day after being down in the dumps after the snow storm. She also has noticed that people around Grand Forks recognize her and her husband as "the pumpkin patch people." It is the small things such as those that make Nelson realize that many people in the community go to the patch.
Nelson's goal is to keep the patch from becoming too commercialized.
"It's a place where people can get away from the hustle and bustle," Nelson said.
She likes that the patch has a quaint feel and that it can bring people back in time. She hopes that this is a place where people can come and relax and have an experience of farm life.
Nelson's Pumpkin Patch is open from now until Oct. 28. On weekdays, it is open from 3 p.m. – 6 p.m. but on the weekends they are open from 11 a.m. -6 p.m. The fees vary as well. It is $5 on weekdays and $8 on the weekends. This fee includes all of the activities except for the corn cannon.
If you are looking for some fall fun, stop by Nelson's Pumpkin Patch.