Sacrifices for your sport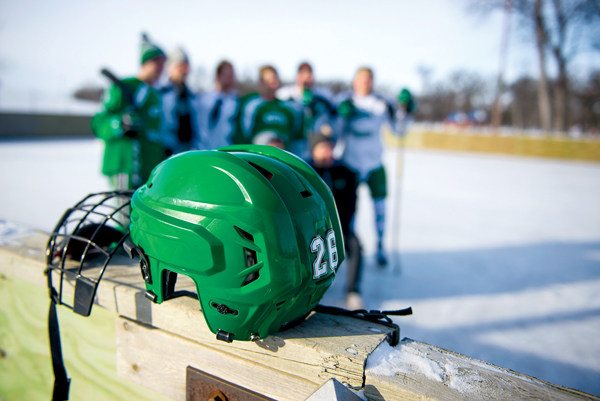 Nothing compares to the feeling of settling into a long winter break after a semester filled with exams, projects, assignments and stress piling into the living room with your family, hot cocoa in hand to watch Christmas movies and just relax.
The first couple days of break are the ones to catch up on sleep and make plans with the hometown crew and for most students this carries throughout the entire break, but for student-athletes things aren't as laid back.
My break takes a different turn the day that my coach sends out the training schedule. The workouts are meant to be good tune-ups: getting into shape and getting in some speed before the first indoor track meet in early January.
Instead of sleeping in, I'd wake up at 7 a.m. to have breakfast and drink some coffee. Around 9 a.m. I'd head out the door to either the indoor track or the gym.
I'd walk back through the door of my house around 1 p.m. hungrier than ever and hearing my bed shouting my name.
I get into a routine of working out first and resting later while family and friends are squeezed into the spaces that were left open. The rest of the time at home went by in a blur and before I knew it, it was time to head back up to Grand Forks for a week of intense training before school started up again.
Coming back to Grand Forks the first week of January is a different experience to say the least. It seems like campus isn't quite the same when there aren't a hundred people walking down University Ave. at any given time.
Once the team gets back, we spend a majority of the day with each other either at practice, volunteering or socializing.
The main point is, winter break becomes a time to get better. The coaches look at the lack of school as an opportunity for athletes to put more time into training and more time into recovery.
This is a given for the athletes on the team, who follow the training programs rigorously and often without complaint. However, families are the ones that often have a problem with the high intensity training.
Not only are you sacrificing a week of time at home to come back and practice with the team, but you're sacrificing countless hours while you're at home to be working out.
Parents claim to understand, but help load up the car with slight resistance and teary eyes. I hugged my sister goodbye and told her to enjoy her remaining three weeks of winter break as she told me, again, how much it sucked that I had to go back after two weeks of my own.
All this being said, there's something that feels right about driving back to Grand Forks. There's something about the early mornings, the long practices, the team meals at a variety of restaurants around town. Honestly, there's something about the second family that you miss so much while you're in your hometown.
Grand Forks becomes home and the team becomes family. These are the types of bonds that make it seem like sacrificing time at home isn't that much of a sacrifice at all.
Madison Overby is a sports writer for Dakota Student. She can be reached at [email protected]