Flowers in season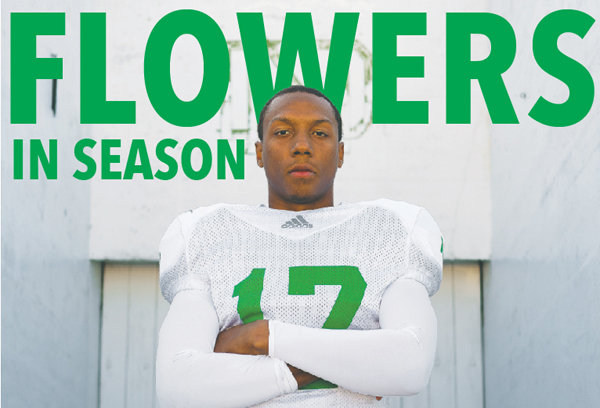 There aren't many things that could make someone willingly uproot their life in sunny California to brave a frigid North Dakota winter, but for Chuck Flowers football was the magic word.
Chuck is a senior safety on the University of North Dakota's football team, and his journey to where he is today started in Chino Hills, California.
"I've been wanting to play football since I was two or three years old, probably since I could talk," Chuck said. "My dad had the game on and it was the USC Trojans, and I said 'I want to play for the red team' and ever since then USC has been my team."
Chuck still cheers for the Trojans and he spent endless hours practicing like one as well.
"My school was Chino High School back home and we would train probably every day right after Pop Warner practice," Chuck said.
A practice ritual that began at the early age of seven for Chuck and his family; his brother, sister, mother and father all put in work post Pop Warner, the oldest youth football program which already instills a great skill set within their players.
"My brother and sister were both out there just following me, trying to keep up with me and do the same thing I was doing," Chuck said. "So that work ethic was put in at a young age and kind of just carried over."
That work ethic earned Chuck a starting spot at safety for Citrus College, where he played his first year of junior college football and had a breakout year registering 50 tackles and led the Western State Conference with five interceptions to earn All-Western State Conference honors. In addition, Chuck was named to the California Community College Football Coaches Association Region IV All-California first team.
This talent was not only noticed by scouts, but by the ones who looked up to him for years prior. Chuck's younger brother Emmanuel Flowers currently sits as a redshirt freshman for the Michigan State University Spartans. 
"My brother really taught me everything I know. My dad would actually take him and me out after every practice, so I kind of got my hard work ethic from him," Emmanuel said. "He taught me a lot of things about technique and we played the same position, so he taught me a lot about my position."
This isn't always the scenario. Most siblings grew up where there was a good chance they kicked and screamed their way through their parents tolerance, but at the end of the day, their older siblings were their role models, who they wished they could be like when they grew up.
That rings true for Emmanuel when looking up to his older brother Chuck, watching him play for UND for the first time.
"Seeing him out there on the big screen, it pushed me to actually go be out there. I've always wanted to be like my big brother in a way," Emmanuel said. "So that's one of the things where I want to be like him in every aspect."
Chuck's play at corner may have been what brought him to UND, but recently he's shown that he is a multi-faceted player and takes on the "next man up" mentality. As injuries are no stranger to UND's roster, Chuck showed that safety can also be where he belongs.
"I was recruited as a corner," Chuck said. "But when I came here and we had a lot of injuries, they decided to move me to safety because they felt like I was better for the safety, so when Coach Schmidt said 'what do you think about playing safety?' I was like 'let's go!'" Chuck said.
With an enthusiastic attitude to a new position on the team, Chuck took the control and hasn't regretted the decision.
"I love to play safety. I just like being in control," Chuck said.  "In corner, you're always listening to the calls. Safety, you got to know all the formations. You got to know where everyone's lined up you got to know what you're doing and what everyone else is doing."
Chuck put on a display at safety during last weekend's much needed homecoming win against Northern Colorado, when he set up redshirt freshman linebacker Cam Hunt in the first half by knocking the ball out of UNC quarterback Jacob Knipp's hands. Chuck helped UND end on the high note they needed when he landed an interception on the 1-yard line to squash any chances UNC had of a comeback.
"Chuck always makes those plays," UND sophomore defensive end Mason Bennett said. "We expect him to make those plays because that's just the player he is."
The trust from his teammates has been built over his four-year career here at UND and his positive attitude in addition to his skill is what makes him one of UND's greatest assets.
"We're very confident that we can get right back in this race," Chuck said. "We've had a little adversity here, but two years ago we lost just like this, and we won six straight and we had the chance to go to playoffs. We're just going to control what we can control and that's showing up every day to film, practicing hard and that's showing up on game days."
With five games left in his college career, Chuck looks back on his success here at UND. If he could send message to his freshman self today it'd be,
"Be patient, your time is coming."
Allyson Bento is the sports editor for Dakota Student. She can be reached at [email protected]