Big fish out of a small pond
UND freshman chasing her dreams at the collegiate level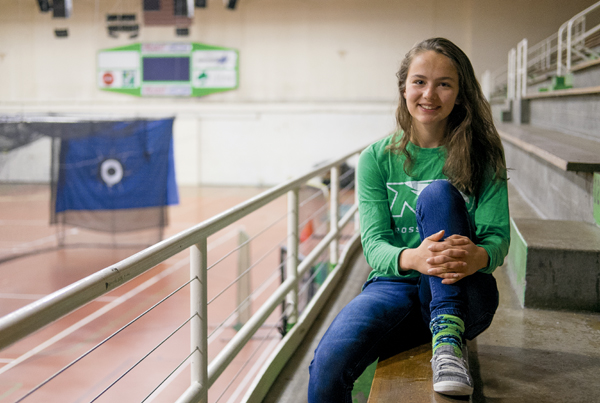 Ellyssa Peterson, a freshman at the University of North Dakota, always had her eyes set on running at the collegiate level. Many high school athletes at small schools have trouble succeeding and getting recognized because of the lack of resources and the focus of recruiters on the larger schools in the state. For Peterson, this was not a problem.
Growing up in the small town of Nashwauk, Minnesota, population less than 1,000, Peterson was able to find an extreme amount of success in both cross country and track. She was section champion in cross country as well as the 1,600m and the 3,200m run in track. She also placed third in the 3,200m run at state as a sophomore in high school.
Peterson started running at a young age. She was inspired by her mom, a marathon runner. She remembers around the age of six, her dad mowed down a trail in the back of her property for her mom to run on.
"When my mom would go running, I'd always tag along for a mile or two. I guess since then I just never stopped running," Peterson said.
Although her mom isn't the biggest fan of short races, they still run a couple 5k's during the summer to get some speed work in and use the time as a benchmark for Peterson's upcoming seasons.
In Nashwauk, a majority of kids who go on to college attend Bemidji State University, which is about an hour and 15 minutes away. Peterson said of their graduating class that went somewhere other than Bemidji there was group of people who went to the University of Minnesota Duluth and one that went to the University of Minnesota Twin Cities. However, when Peterson began her college search, she looked at UND right away.
"It just seemed like the right choice," Peterson said. "I loved the PT (Physical Therapy) school, then I met the team and everyone just seemed really cool."
As a freshman this year, Peterson has consistently been the team's number two runner behind sophomore and training partner, Hannah Oscarson.
"(In high school) I basically had to run with the boys because the girls were way too slow," Peterson said.
In addition to having a team that can train alongside her, Peterson also enjoys the change in pace from her high school training to collegiate-level training. The intensity and variety is much different from how it was for her in high school.
Coach of the cross country team and distance events in track, Richard Clay, puts together a training plan that ranges anywhere from short speed workouts to fast-paced 3k repeats to relaxed 11 mile runs and seemingly everything in between.
"In high school it seemed like we either had long days or speed," Peterson said. "Clay really changes it up which is what I like about the program so much. It's not just six 400's every single workout."
Peterson hopes that with the better training and support of the team she can continue to improve throughout her college career.
"I'd love to break 18 minutes (in the 5k)," Peterson said. "But mainly, I just want to keep getting better, stronger and faster. I want to give it my all."
Madison Overby is a sports writer for Dakota Student. She can be reached at [email protected]