Sweet Demons take down Moorhead
Teamwork wins the day in women's rugby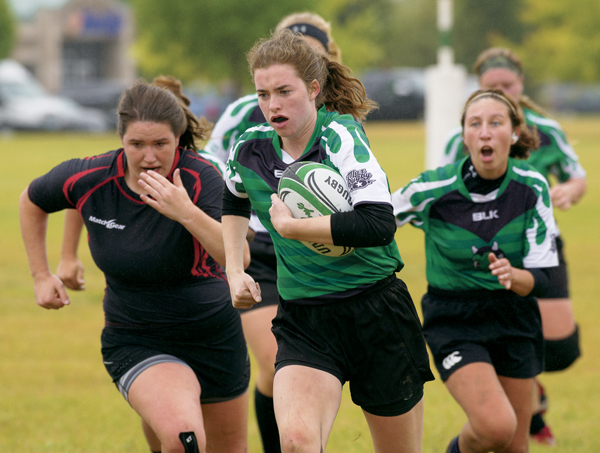 There was a steady mist coming down on Jaycee Park on Saturday morning as the University of North Dakota women's rugby team, the Sweet Demons, prepared to take on Minnesota State University-Moorhead, MSUM.
Although the weather was not necessarily ideal, there was still a good turnout of fans for the rugby match, wrapped up in blankets and huddled together along the sidelines. The teams both had full rosters and a lot of energy coming into the game.
UND had 23 girls on the roster for Saturday's game and ended up playing everyone. In rugby, substitution works differently than in soccer. A player can only be subbed out once, so the players on the sidelines normally only get in the game if another player is hurt or needs to be sent out. That being said, with about 10 minutes left in the game UND ran out of subs because eight players had already been subbed out. They ended up continuing play after a short timeout.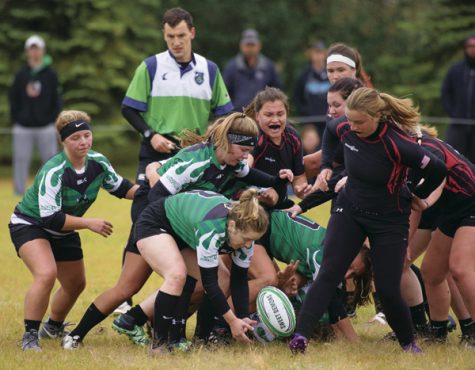 In the beginning of the first half, there wasn't a standout team.  Possession was split fairly evenly between the two teams. After about 30 minutes, there was a clear momentum shift in the direction of UND. Total morale of the team picked up and the score reflected that directly.
"Katie's play where she broke through a line of girls and  kind of carried the whole team with her was really a turning point in the game for us," Amy Schroeder said of Katie Krebb, vice president of the rugby club.
Krebb was a key player in Saturday's 26-10 win for the Sweet Demons over MSUM. Although Krebb was very hesitant to take recognition for this and instead credited the entire team.
"Rugby is a sport where there can always be turnover, it can always be anybody's game," Krebb said. "When we have good defense, which we started to get better during the second half of the game, that's when we really started gaining momentum."
The rugby team at UND has already played four games at the All Minnesota Rugby Tournament just last weekend. Saturday's game being their fifth of the season, both Schroeder and Krebb agreed they saw a lot of improvement on the field already in both teamwork and the basics of the game.
"We had better defense and we really attacked; we have improved, " Krebb said. "We definitely played a lot better as a team."
One thing that was very clear on the field was the immense amount the team relied on each other for physical and emotional support. Even from the sidelines, communication between teammates was heard constantly, encouraging and directing one another. Although there were standout plays, there wasn't one player who did everything on the field. This goes to show how big of an aspect teamwork is in the sport of rugby.
Schroeder and Krebb also wanted to make another shout out to anyone that is interested in rugby to contact one of them or come out to a practice. There's still time to join and the team has a large group of rookies this year who are just learning to play, so there isn't any pressure to know a lot about the sport coming in.
The next home game will be this coming Saturday, Sept. 23 against North Dakota State University at Jaycee Park.
Madison Overby is a staff writer for Dakota Student. She can be reached at [email protected]