Career Fair on campus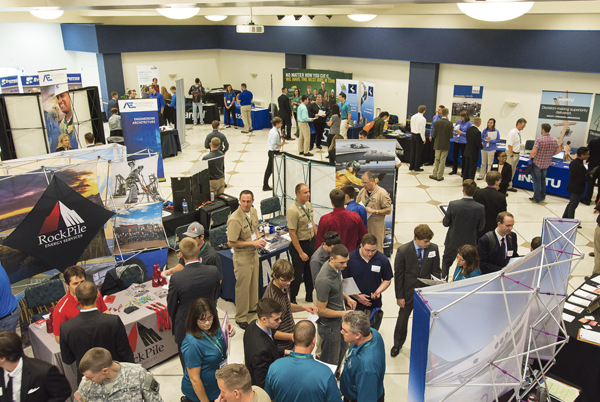 With the fall 2017 Career Fair taking place next week, Sept. 18-20, Ilene Odegard, the Director of Career Services, has been busy working various departments on campus to get applicants prepared for the possible opportunities that await them as University of North Dakota students.
"The beauty of the career fair is that many of the employers and recruiters are alum, so they're eager to come back to UND," Odegard said. "They love to hire UND students. Hands down, the students that show up at the career fair are by far more professional looking than other schools."
Career Services is only one of the many other departments on campus that strive to prepare students for what to expect at the fair. They are offering hour-long workshops throughout this week that students can attend on a walk-in basis or register for by calling the office.
The Pancratz Center in Gamble Hall also offers workshops and looks over resumes, which is important. If students are unable to make an appointment to have their resume reviewed in time for the fair, however, Odegard advises to at least have a second pair of eyes check your resume for any grammatical errors, inconsistencies and clarity.
Odegard has three recommendations to students who want to make the most out of the career fair.
The first is to find five companies that you want to visit and do your research. Download the UND Career Fair app, available on Google Play and the Apple Store, to get a full list of the employers attending and a map of the layout to strategize your game plan. In your research, look for buzzwords that will stand out to recruiters and help you make a lasting impression on them.
Familiarizing yourself with the companies that you want to speak to also includes customizing each with a short, 30-second elevator speech that communicates who you are, what type of opportunities you're looking for and what you can bring to a company.
Secondly, Odegard said that students must dress to impress. Whether you're a freshman looking for your first internship or a graduate-to-be, Odegard stresses the importance of dressing appropriately that will result in a positive and professional first impression. This doesn't require students to go out of their way to purchase overly extravagant business-wear. For ladies, clothing should fit well, with nothing being too tight or short. For men, slacks and a white or blue long sleeved button up. If you choose to wear a tie, ensure that it is unmemorable.
Odegard's final piece of advice, to follow up with every employer that you are interested in. This gives students the chance to create a lasting impression that may just lead to their sought-after career opportunity.
"Follow up with every employer you want to make a connection with," Odegard said. "Whether it's just emailing them the next day and thanking them for taking the time to come to UND's career fair, if you pinpoint something that you talked about, they'll remember you that way."
Along with sending the company representative thank you emails, also consider sending them a message on LinkedIn and asking them to join your network. Doing so creates a lasting connection that may just lead to future opportunities. Odegard says that UND students have had success through these methods.
"When we put on a presentation at the College of Engineering last week, I had a couple of students come up to me afterwards and say that they got their internships because of who they met at the career fair," Odegard said.
Last year, the fall Career Fair attracted over 3,000 students and hosted over 300 employers. These numbers may seem daunting but preparation aside, Odegard advises students to simply be confident when talking to the employers. Every student at the fair is working towards a degree, but these employers are looking for someone who fits within their team.
"Be authentic," Odegard said. "They are looking for someone with a nice personality, a nice smile, a good handshake and somebody who can articulate what they can bring to the table."
Stephanie Hollman is a staff writer for Dakota Student. She can be reached at [email protected]