Join the club!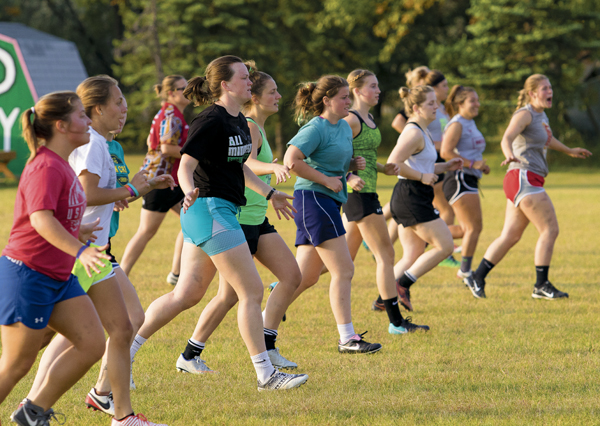 The University of North Dakota Women's rugby team is celebrating 15 years as a club, marked with record-breaking numbers as an organization here. The rugby team competes in both the fall and the spring, with a competitive season in the fall followed by a more laid-back tournament season in the spring. The first practice of this season was Aug. 21, but the team encourages people to come out to practice and accepts new members throughout the season at any time.
Previously mentioned, the team has one of the biggest turnouts that it has seen in its existence here at UND. Six years ago, there were 10 women, total, on the team. Because rugby requires 15 people on the field during play, the club was having trouble even signing up for tournaments. This year, there are 25 women on the roster.
Most people hear about the rugby team through the Student Involvement Fair on campus or through mutual friends. The team has been trying to reach out through Facebook for recruiting which could be a reason for the bigger numbers.
Amy Schroeder, going on her fourth year at UND, has been on the rugby team since she was a freshman. She also played rugby for Armstrong (Plymouth, Minnesota) in high school. She picked up the sport as a junior and grew to love it. Although she has been playing for six years now, she encourages beginners who know nothing about rugby to come out. Only two women currently on the team played rugby in high school.
"Rugby is a very underappreciated sport just because people don't know enough about it," Schroeder said. "A lot of people think they wouldn't fit in, or they don't have the right body type to play. Rugby is for girls of every size. There's a spot for every single person on the team."
Player dues are about $100/year in addition to paying for travel. The team drives to their away games and tournaments. However, they also do a lot of fundraising during the year to decrease the amount that players have to pay. These fundraisers include things such as working at Pizza Ranch and cleaning the Ralph Engelstad Arena or the Betty Engelstad Sioux Center.
Schroeder also discourages resistance to join based on worries about the time commitment.
"We're very laid-back. It's highly encouraged to make it to two practices per week. It's not a big deal if you can't make it to the third," Schroeder said.
In addition to practices Monday and Thursday from 5-7 p.m., the team has a morning practice on Tuesday from 7-8:30 a.m. so that people who might have to work one of the afternoon's have another option. The tournaments take place over the weekend and single games are Saturdays at 11 a.m.
Schroeder really emphasizes how friendly and inclusive the rugby community is, which is a huge reason she believes people would love to be on the team.
"All of my closest friends I met through rugby," Schroeder said. "It's not even just the team here that gets along so well. We have socials with the opposing team after every game. It's just a really cool experience."
Rugby is a sport that is growing in popularity not only at UND and in the Midwest, but around the country. If anyone is interested, they can contact the president of the club Jenna Richardson, the vice president Katie Krepp or the volunteer coach and former player for UND, Morgan Otey. Another easy way to get in contact is to message their Facebook page, University of North Dakota Women's Rugby.
The UND Women's Rugby team's next home game is against Minnesota State University-Moorhead at Saturday Sept. 16 at 11 a.m. Home games take place at the UND Rugby Pitch, Jaycee's Park, right off of I-29.
Madison Overby is a staff writer for Dakota Student. She can be reached at [email protected]