Higher than the hype
Fighting Hawks mash Bears in Potato Bowl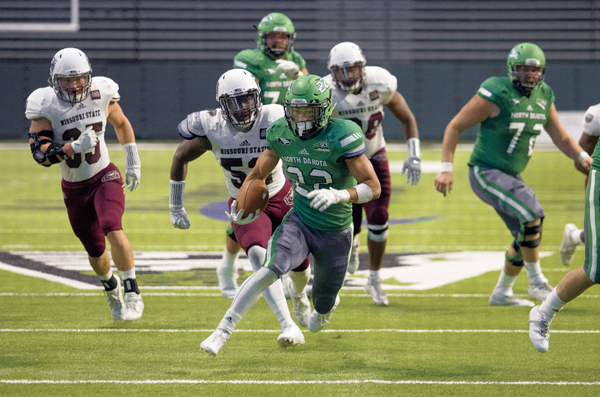 Saturday's game only brought smiles to UND football fans as they cheered loud and proud for the astounding victory over the Missouri State Bears.
The only other time that the Bears and Hawks met, coach Schweigert was in his first season as head coach and fell to the Bears 38-0. The tables turned, now in his third year as head coach, UND went on to route the Bears 34-0.
Keaton Studsrud went to work and made it clear he wanted this victory. He threw with precision in a tight window to his tight-end Noah Wanzek three minutes into the second quarter to make it 10-0 UND. Studsrud again found his tight end in the end-zone on the ensuing possession with a three-yard toss.
Santiago joined in on the offensive onslaught by capping off the first half of scoring with a 19-yard dash to the end-zone with a little over four minutes left in the half.
In the second half it slowed down after UND went three-for-three in their possessions to not have any scoring at all.
Reid Taubenheim, after uncharacteristically missing his opening 25-yard field goal attempt, successfully kicked to open up the scoring and once more time in the fourth quarter. To close out the game, sophomore James Johannesson opened up his first game at home by dragging the Bears defense with him for 19 yards on his way to the end zone.
"I won't say we expected a shutout, but that's the goal every time we go out there," Schweigert said. "It was a good team win. We still have some things to clean up, but anytime you can run the ball the way we did and stop the run like we did, you're going to give yourself a chance for a positive result and that's we got today."
The offense was potent, and the defense came in abundance with numbers all over every ball carrier the Bears had. UND's defense held MSU to zero passing yards until four minutes into the second quarter. The Hawks also shut down the pass game early in the victory and then went to work on closing down the run game only allowing 79 rushing yards the entire game.
The only production MSU seemed to be able to see out of their offense was with short bubble screen passes to the slot receivers as well as quick out routes. The Bears' offense couldn't string together large plays to help them get on the board. In the first half, Bears quarterback Peyton Huslig couldn't complete a pass further than five yards downfield the entire first half, proving that UND's secondary had him on lockdown. Huslig was last week's Missouri Valley Football Conference's Newcomer of the week for his performance against Mizzou.
Keaton Studsrud looked efficient as always going 22-31 with one interception and two touchdowns. John Santiago finished with 125 all-purpose yards and a touchdown in the first half. Brady Oliveira led the rushing attack on Saturday with 16 rushes for an impressive 164 yards. Noah Wanzek had career highs with seven catches for 117 yards and two scores. UND's senior Defensive Backs, Cole Reyes and Chuck Flowers led the defense with seven tackles each and four solo a piece.
Flowers stripped Jason Randall at the goal line to maintain UND's shutout.
"We weren't worried about their Week 1," UND safety Chuck Flowers said. "That was the biggest thing. We pride ourselves on a tough physical defense. As long as we do the little thing, I feel like we can't be beat."
With this win UND improves (1-1) and MSU falls to being still winless on the season (0-2). UND looks forward to their next game in Vermillion, South Dakota to take on the University of South Dakota Coyotes in their border battle of the season next Saturday Sept. 16. The Coyotes defeated the Bowling Green Falcons (35-27) this last weekend and are undefeated so far with a stomping of Drake University (77-7).
Nick Erickson is a staff writer for Dakota Student. He can be reached at [email protected]