Malik Earl, #17
During his senior year of high school, current Missouri State Bears wide receiver Malik Earl caught 57 passes for 1,254 yards and eight touchdowns. Now four years later, Earl is the leader of the MSU offense and on the path to Missouri Valley Football Conference stardom.
Not only will he see success and likely accolades at the FCS level in 2017, many pundits expect Earl to garner interest come the 2018 NFL Draft season. Here's a sneak peek at why.
The senior was selected to the MVFC preseason first-team, primarily based on his performance as a junior, when he collected 534 yards and three touchdowns on 41 receptions. But his solid play began well before the 2016 season.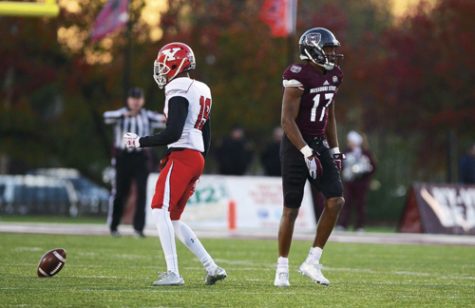 As a freshman for the Bears, Earl started eight games and appeared in all 12 contests. He finished third on the team in receptions with 19 and second in receiving yards with 302. Against South Dakota on MSU's homecoming in 2014, Earl caught a 53-yard touchdown – his first career collegiate touchdown.
From that point on, it was clear the 6-foot-3, 217 pound receiver from Oklahoma was destined for greatness at MSU. Though it wasn't the potential for greatness that stood out, it was the consistency. Following his impressive freshman season, Earl led the team in receptions with 31 as a sophomore.
Though for Earl, that season was just the beginning, as he truly exploded during his junior season. For his stellar junior performance, he was selected as an All-MVFC honorable mention. Additionally, Earl was a star off-the-field in 2016, as he earned a spot on the MSU Athletic Director's Honor Roll during the fall semester.
The Bears finally have a starting quarterback to find Earl when he's open: Peyton Huslig. Huslig came to MSU from Garden City Community College last spring, after winning the Junior College National Championship.
In the Maroon and White Spring Game in April 2016, Huslig and Earl connected five times for 91 yards. In the Bears' first game of the 2017 season, Huslig and Earl impressed against Mizzou –  an SEC opponent – connecting eight times for 163 yards and one touchdown.
Alec McChesney is the Sports Editor for The Standard. He can be reached at [email protected]