A bookend to a long story
Peter Johnson looks to wrap up a memorable career with one final bash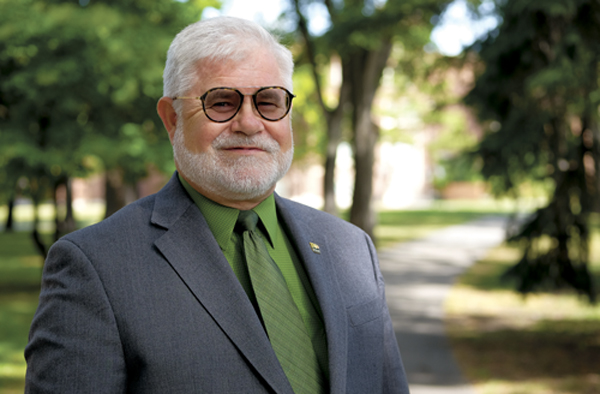 Generally, people work most of their life and then retire for the rest of it. We all earn our leisure time eventually. Peter Johnson is kicking off his retirement as UND's spokesman with a bang by being a part of the biggest party of the year.
In the longstanding tradition of the Grand Marshall of the Potato Bowl at the University of North Dakota, there have been 52 different people to fill the shoes. Johnson is this year's "spud," and he could not be more excited to take on the job.
Johnson, a longtime part of UND's public affairs staff, says he views this experience as the bookend to his story. He'll speak at a luncheon on Friday. He will lead the parade, where many locals and local organizations ring in the festivities. Then he will speak at the football game on Saturday, along with the two student ambassadors Alexandra Heisler and Lexi Grinolds. For Johnson, it's simply an amazing opportunity.
"They called me over the summer, and I was absolutely honored, humbled even," Johnson said. "I accepted as soon as possible, barely giving them time to reconsider. I always saw these men at the head of the celebration, and I cannot believe that I am now one of those men."
He marches into this opportunity as a cheerleader. He wants to rev people up, to get them excited for the athletic season.
"The players and coaches are the heroes," Johnson said. "I am merely the man who gets to cheer them on."
Johnson couldn't be more modest about his position in the Potato Bowl. Often, the Grand Marshal comes from a background more involved with potatoes or agriculture, but when you hear more of his story, it's hard to think of a better choice.
The Potato Bowl began in 1966, and ever since Johnson's family moved to Grand Forks in 1976, Johnson has been to every single one.
"I missed a few of the french-fry feeds over the years, but I have been to every parade and football game," Johnson said.
UND has been Johnson's pride and joy for most of his life. He first started his relationship with the college when he graduated high school early. He impressed his father with a biology paper he had written, and his father contacted the University directly. He believed that his son was ready to start college right away. Johnson started in the fall of 1976 and graduated with a B.A. in English and a B.S. in Education.
After a brief stint as a journalist, he was hired by UND in 1988 as a media relations coordinator. His job consisted of working with external organizations from the University, in any way one can imagine.
"I worked under six different presidents," Johnson said. "I got involved with the community. I ran public relations, media relations, legislative relations and any other relations they wanted to give me."
After a 29 year working relationship with the University, Johnson decided to retire. He officially retired on June 30, 2017. Currently, he does part-time work as the VP for Public Affairs to ease the transition between him and the next person in charge. After the Potato Bowl, he will be done for good.
"I am excited to start my retirement," Johnson said. "Many members of my family retire early so they can go live their lives. I am losing a great work environment, but gaining the free time to do all the things I can't right now. I get to give back, with all of my effort."
Cameron Cloyd is a staff writer for Dakota Student. He can be reached at [email protected]