John Santiago, #22
John Santiago's first two years have been nothing short of complete and utter domination. With career totals of 2,452 rushing yards and 23 touchdowns, the stats back up his dominance on the field.
After being recruited by UND as a wide receiver, Santiago made the switch to running back, and it has paid off tremendously for not only himself, but the team as well as UND's football program has had the most hype around their team in years, due in part to Santiago's dominance on the football field.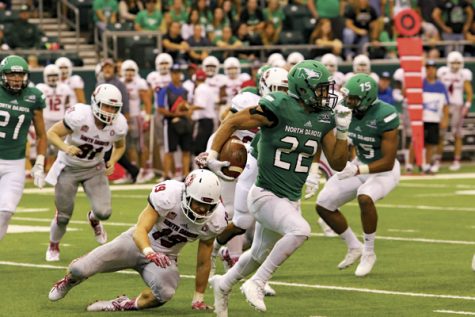 In Santiago's freshman year, 2015, he rushed for over 100 yards in nine out of 11 games. With one 200 plus yard game. Santiago also boasted 1,459 yards on the year and 16 touchdowns, while averaging 132.6 offensive yards per game. Santiago's performance gave him the honors of being named Co-Big Sky Freshman of the Year and second team All-American honors at running back.
In Santiago's sophomore year, 2016, he took a step back in the stat category. While his numbers went technically down, they were still incredible numbers: rushing for over 100 yards in four out of 12 games, with a total of 983 rushing yards and seven touchdowns, while averaging 81.9 offensive yards per game. Santiago was named first team All-Big Sky at running back as well as return specialist. Santiago was also honored with earning second team All-American as return specialist.
Santiago's performance on the field is not only felt on the offensive side of the ball, it is also felt in the special team's department. Santiago has a combined total of 1,081 yards and one touch down in only 39 attempts on kick offs, posting 581 yards in 2015 and averaging 196.3 all-purpose yards a game. Running 500 yards in 2016, one return being for 100 yards, and 133.3 all-purpose yards a game. Santiago's presence is felt on special teams.
Santiago has become a real pain for not only opposing teams players, but coordinators as well. Opposing teams not only have to game plan on how to stop Santiago at running back, but also at kick returner.
Kyle Kinnamon is a staff writer for The Dakota Student. He can be reached at [email protected]