Cole Reyes, #8
Cole Reyes is starting his senior year at UND, and his play on the field has been brilliant. In his first three years at UND, Reyes has been a top player for not only UND, but in the nation as well. After Reyes' junior year, NFL scouts had him as the seventh ranked strong safety in the nation, being projected to be drafted in the sixth or seventh round. Reyes' decided to stay at UND for his senior year, and UND could not be happier to have him back.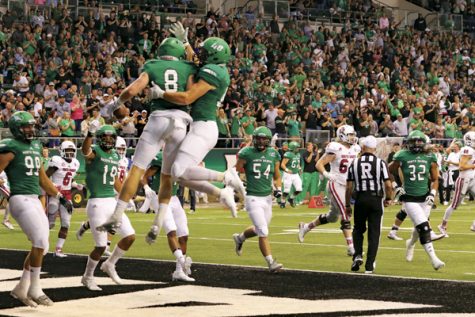 After an average freshman year of 59 tackles and one interception, Reyes looked to step up his game in his second year, and that's exactly what he did.
In Reyes' sophomore year, 2015, he not only upped his tackle total to 71 tackles, he also improved in every category. Reyes' ended the season with a single forced fumble, fumble recovery, interception and a sack. Reyes' presence on the field did not go unnoticed. Reyes was honored with earning second team All-Big Sky Conference.
Coming off an improved sophomore year, Reyes was looking to increase his level of play once again. In Reyes' junior year, 2016, he kept up his dominance once again. Statistically, Reyes kept up his play. Ending the year with 70 tackles, one and a half sack average, two forced fumbles, two fumble recoveries and three interceptions, one that was returned for a touchdown.
Reyes ended up earning six different All-American accolades. Being the first UND player since Weston Dressler in 2007. Reyes earned first-team honors from the Associated Press, Athletics Directors Association, STATS and Walter Camp Foundation, as well as second-team honors from the American Football Coaches Association and Hero Sports Network. On top of being honored with six nods, Reyes was named FCS ADA Defensive Back of the Year. When it came to the Big Sky, Reyes was no match for the competition, earning first team All-Big Sky honors, being named ROOT Sports Big Sky Defensive Player of the Week twice and most notably, being named Big Sky Defensive Player of the Year.
Reyes has proved a lot in his three years at UND. Only time will show how he performs this year. If it is anything like the previous years, Reyes will follow his trend and improve.
Kyle Kinnamon is a staff writer for The Dakota Student. He can be reached at [email protected]