Hisshou Karate teaches more than moves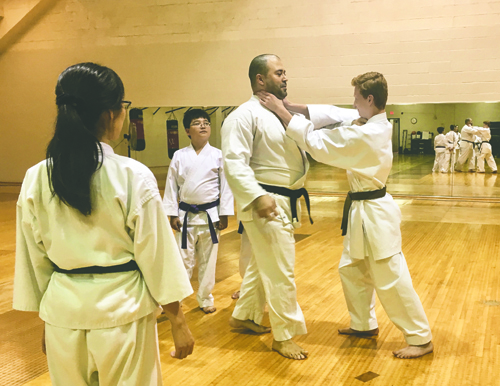 Here in America, when the word "karate" is mentioned, the image that comes to the mind of many is the image of the Karate Kid from the movie. For a group of students and adults here in Grand Forks, karate is so much more than that.
Karate is a form of martial arts that has been around for thousands of years. It originated in China and made its way to Japan where it developed into the martial art that it is today. Karate was brought to the United States in 1945 after soldiers learned the art form while stationed in Japan.
The UND Hisshou Karate group is a non-profit group that strives to provide a place where students, adults and anyone who is interested in learning the art of karate can come receive instruction and be provided with the opportunity to also give instruction to others.
Karen Katrink, a senior student and the class advisor, describes the range of students from anyone from seven years old to seventy years old or older.
"This is a group where you come as you are. White belt, green belt, black belt, you come because you want to continue to practice this skill. There is no gender, race, or religion in Karate. The only thing that matters is rank and respect," Katrink said.
Karate is a martial art where one learns how to defend themselves without a weapon. As these students practice each physical activity with precision, they are training the muscles to react in case imminent danger occurs.
The fingers for escape, a move that was taught at the beginning of the class, is a move that is used to release one's self from a choke hold. The students would practice this move on each other without harming the opponent.
Students who join this group learn a variety of moves of how to escape an attack or fight an opponent. From strategic punching points to nerve points for escape, these students are learning self-defense tactics that are practical in today's world.
The mission or Dojo Kun is reflected on five basic principles. These principles are seek perfection of character, be faithful, endeavor to excel, respect others and refrain from impulsive behavior.
Throughout the class, all five were present. Even while the students were practicing each move on each other, after they would finish, they would bow to show respect to the other student. The refrain from impulsive behavior was difficult, however each student remained in control of all emotions and expressions throughout the hour and a half class.
Even when faced with disappointment or frustration, they remained composed and collected throughout the entire class. Students also showed a high regarded for excellence. The students, some as young as 12 years old, would practice kata or memorized sequences supposed to represent a fight.
As these students moved through the kata, the expression on their face was filled with focus and determination. They practiced each move with precision, training the muscles to memorize each detail of the kata. The younger students strived for perfection in their art, often repeating a move over and over again until they were able to perform the move with precision and accuracy.
This group has been present at UND for almost 60 years and their teaching mission is giving back. Mohammed Mahmoud, an instructor for the group and the president of the club stated "the teaching mission is to give back once you have attained something from your practice. Every teacher that teaches here does not receive compensation for their time; rather, they donate their time to the students hoping that they will continue their journey."
This group meets throughout the week on Tuesdays (6:30 p.m. – 8:30 p.m.), Thursdays (6:30 p.m. – 8:30 p.m.) and Saturdays (10  a.m. – 1:30 p.m.) at the Hyslop in room 206.
The classes are free to students who are below a yellow belt and there are dues of $10 once students have passed their yellow belt exam.
The club travels regionally and nationally several times a year for training, rank testing, and competition opportunities. Sensei LaRoyce Batchelor, teaches a few classes a month. She is a nationally ranked kata and kumite competitior, ISKF instructor, and Meritorious Service Award recipient.
The UND Hisshou Karate club is a member dojo of the International Shotokan Karate Federation. Students who are members of this club are provided not only with an education to defend themselves, but also with phenomenal mentors and the foundation for excellence outside of the karate world.
The five principles transfer to life and education, teaching these students the value of dedication and hard work. If anyone has an interest in learning more about this club or karate, call (701) 330-1621, visit them on Facebook at UND Hisshou Karate or stop by Hyslop 206 during class times.
Devon Abler is a staff writer for The Dakota Student. She can be reached at [email protected]