More than just a rebrand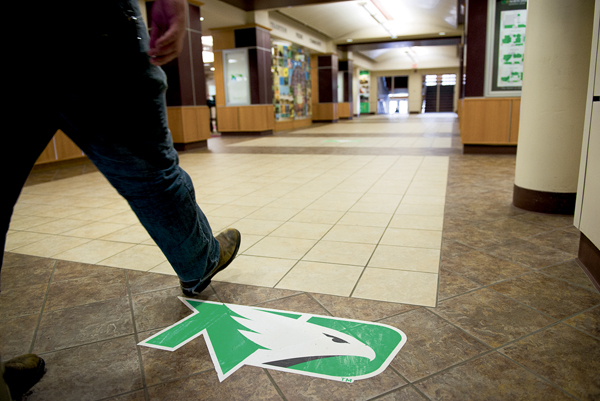 Kyle Kinnamon, Staff Writer
August 29, 2017|857 Views
Hang on for a minute...we're trying to find some more stories you might like.
As another year of North Dakota athletics are set to begin here on the campus of UND, there is a different mood amongst many students when it comes to our athletics. Mainly due to the cutting of men's and women's swimming and women's hockey this past year. The athletic department has seemingly forgotten and moved on from those former sports. The focus seems to be only on the new logo and the future with that new logo.
The athletics department at UND is trying to get everyone on campus to buy into the new Fighting Hawks name and logo by throwing it in student's faces. While basically forgetting that three sports were just cut, one being a staple sport in this community. The timing could not have been worse to try and remarket the school's athletic programs. Cutting sports is hard enough on the school and students. Forcing a new name and logo to an unreceptive audience is hard enough. But, having to do both within a year is almost impossible to come out with everyone on board. 
Over the last year, UND cut approximately $3 million dollars in UND athletics. UND only needed to cut $1.3 million, but cut extra for future use. The cutting of an extra $1.7 million was seen as completely "unnecessary" by many students. Some students starting to even joke about the budget cuts. The running joke around campus is, "Yeah, if we don't get cut next." As well as students showcasing some of the new additions to athletics, such as the new golf carts, with the sarcastic caption "budget cuts."
While I understand the economic reason for the cutting of the sports that were cut. I personally do not agree with the process of the cuts and the obscene amount of push for change around campus. The past five years at UND have been nothing less than constant controversy and instability. Starting in 2012, with the nickname controversy we are all too familiar with, that became a part of a national conversation of racial nicknames. So, cutting multiple sports around campus was just another notch in the totem pole of UND controversy.
The last year at UND has been nothing but in-your-face marketing of the new Fighting Hawks name and logo. This change was not wanted by a majority of the students, and state as a whole, so the aggressive marketing did not sit well with many. Numerous students demanding UND should have kept the interlocking "N" and "D" if nothing else. Some around campus started using the new name Hawks as an acronym for "how about we keep Sioux". Even with the protest of changing the nickname, the university had to do so from a marketing standpoint and a business standpoint.
Many do not know UND had the interlocking "N" and "D" logo before the University of Notre Dame. But the University of Notre Dame trademarked the logo first. Notre Dame then manifested an agreement with UND which allowed our school to continue to use the logo, but only 10% of sales with that logo could go to athletics, with a cap of $100,000. All other funds must go to the University to be used on anything but athletics. This reason is to be believed to be a driving factor for the push for a new name and logo.
Only time will tell for the outcome of yet another controversy for the University of North Dakota. Was the extra $1.7 million worth it? Did the in-your-face marketing strategy sway more people to support the new name and logo? Or did it just push more away? Hopefully it all works out for UND, but only time will tell.
Kyle Kinnamon is a staff writer at UND.  He can be reached at [email protected]