Finding her groove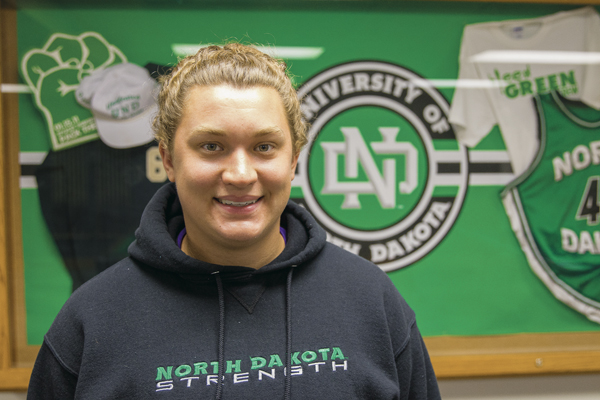 Molli Detloff is a thrower on the women's track and field team. A junior this year, Molli is from Elk River, Minn. and is double majoring in rehabilitation/human services and psychology. The Dakota Student sat down with her this week to ask about her experience being an athlete at UND:
DS: How did you get started in track and field?
MD: In about seventh grade I went out for middle school track and the varsity track coach said, "Nope, you're coming on the varsity team." And I originally was a sprinter. The varsity team suggested that I try throwing.
DS: A sprinter? So you're pretty fast then?
MD: *laughs* Yeah!
DS: Could you describe your track and field event in more detail?
MD: Yeah, I throw hammer, discus and shot put. Hammer is like a shot put but on a metal wire with a metal handle, a discus is like a metal frisbee and a shot is like a metal ball.
DS: You mentioned that you used to be a sprinter, do you enjoy throwing more than sprinting?
MD: Oh I hated sprinting, I only ran because I was fast! I love throwing though. Throwing is all about technique, so you can continually work on things to get better. Even where I am now I still have a lot that I can improve on, so I feel like there's no real limits.
DS: You've had a few personal records (PR's) this year, do you keep track of that kind of stuff?
MD: Yeah, before this season I didn't have the school discus record yet, but in the first meet of the season I threw that. The UND school record was 52.99 metres, and I threw 54.33 metres. I had the hammer school record from my freshman year (I redshirted my sophomore year) and I just beat that too with a throw of 61.56 metres.
DS: Do you have any other specific goals for this season?
MD: I have specific marks that I want to hit that I typically keep to myself just for internal motivation, but I want to make it to Nationals. My freshman year I made it to the West Regional of Nationals. National's is split up between West and the East, and I placed 18th in the West but they only take the top 12. This year, it would be awesome if I made it to Nationals.
DS: So are National's an individual competition?
MD: Yes, West Regional's takes the top 50 in the West Region, and then the top 12 go to National's from there. Another thing to note is that if someone wins the Big Sky conference, they're not guaranteed to go to Regional's. It's just the top 50 marks throughout the season, so you could win the Big Sky but not be in the top 50 in the West. It all just depends on how you do during the season.
DS: What are some of your hobbies?
MD: I really enjoy being outdoors. I like to kayak, canoe, hike. I love going to Glacier National Park. I like watching sports, especially basketball. Basketball is also my favorite sport to play besides track and field. I played it in high school and I wasn't that good, but I really enjoyed it and I enjoy watching both the women's and men's basketball teams play here at UND.
DS: How do you manage the balance between school and sports?
MD: I feel like it's something I've done my whole life, so at this point it's just what I do. You have to find time to get your schoolwork done with practice and all that, and just make it work.
DS: In general, what is your favorite aspect of UND?
MD: I like UND because it's big enough but not too big, I still know pretty much every athlete on campus, and I can easily make friends that are in my classes. It's a good community with a small town atmosphere and the benefits of a medium sized university.
DS: What are your career goals after you graduate?
MD: I want to be a high school counselor. After I graduate UND I want to go into the master's degree program for school counseling, and I'm hoping to do that in only two years online instead of four years here at UND. Then hopefully I'll become a school counselor and also be able to coach. Ideally, I would like to move back to Minnesota and get a job somewhere near the Twin Cities.
Coming up this week, the women's outdoor track and field team is scheduled next for the Pacific Coast Intercollegiate meet on Thursday, April 13.
As Molli continues her career here at UND, keep an eye on her progress; not only is she known to break school records, but raise the bar for UND track and field as a whole.
Thomas McCullough is a staff writer for Dakota Student. He can be reached at [email protected]