The future between the posts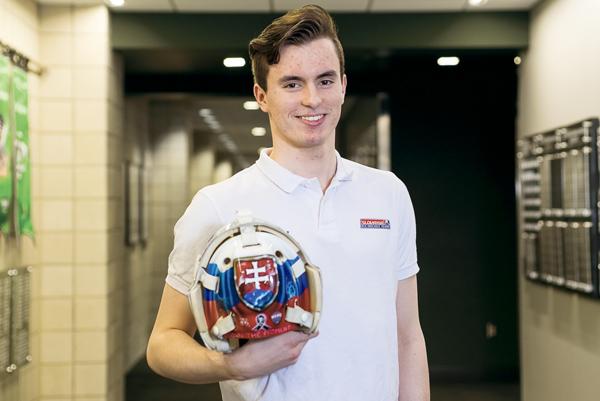 On Friday, the defending NCAA Men's Hockey champions began the weekend with a soul-crushing loss to Boston University in the NCAA West Regional Tournament, thus ending their season. But whether or not the season ends in triumph or heartbreak, at the end of each year, the University of North Dakota Fighting Hawks are left wondering which of its superstars will return the next, and who will leave for the NHL.
Such is the nature of first-rate college hockey programs.
Perhaps the most compelling question mark is in regards to UND's starting goaltender, junior Cam Johnson. Last year, he helped lead the Fighting Hawks to a National championship with an impressive .935 save percentage and 1.66 goals against average. As every hockey team knows, it's not rare to put together a solid, competitive hockey team. But to be great, having an elite goaltender is a must. And last year, Johnson absolutely was.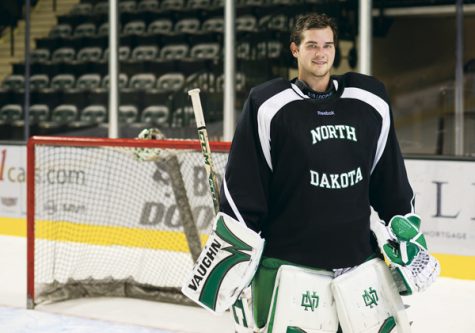 He was so elite, in fact, that it raised serious questions about whether he would return to UND, or sign with an NHL team as a free agent. To the joy of many North Dakotans, we all know by now which option he picked.
This season, while Johnson's numbers may look modest in comparison to his previous, posting a final save percentage of .904 and goals against average of 2.38 are indeed respectable.
This is especially true considering nine pivotal players from last year's championship run, Drake Caggiula, Bryn Chyzyk, Coltyn Sanderson, Nick Schmaltz, Paul LaDue, Luke Johnson, Keaton Thompson and Troy Stecher have left UND to sign pro contracts. Johnson undoubtedly noticed the loss of their presence, as he faced 93 more shots this year (905) than he did last year (812).
Now that the season has ended, UND fans are once again wondering whether Johnson will remain a Fighting Hawk next season. Given his collegiate career thus far, it's safe to say that North Dakota fans are all pulling for him to come back. But if he does indeed sign a professional contract this summer, UND must look into its other options at starting goalie.
Currently, there are three other goaltenders on the roster besides Johnson. One of them, Matt Hrynkiw, is a senior and therefore ineligible to return to the roster next season. Though Hrynkiw is the oldest goalie on the team, Johnson established himself as the starter these past two seasons. The other two goalies are sophomores Ryan Anderson and Matej Tomek.
Ryan Anderson, from Roseau, Minnesota, made the team last year as a walk on. He has not seen any action in goal for the fighting Hawks yet.
Matej Tomek, From Bratislava, Slovakia, was recruited by former head hockey coach Dave Hakstol. Additionally, he was drafted in the third round of the 2015 NHL draft by the Philadelphia Flyers, Hakstol's current team. While his stats were better than Ryan Anderson's when they were both in the NAHL two years ago (Tomek posted a commendable .928 save percentage),Tomek's performance in his two appearances this season may be cause for concern.
In just 32 minutes of play, Tomek let in four goals while only making nine saves — a horrid .692 save percentage. Given this small sample size however, it may be irrational to overanalyze these stats. If given a full year's worth of playing time at UND, Tomek's likelihood of posting similar stats is next to zero. But it certainly doesn't help his case.
As of now, UND's current plan at starting goaltender for the 2017 -2018 season is Cam Johnson, who will be a senior. But given Johnson's talent, UND must be ready with a backup plan if he decides to go pro. If that happens, the Fighting Hawks essentially have two options at goalie: Matej Tomek and Ryan Anderson. Due to the NHL's interest in Tomek, Anderson may seem like the natural replacement. But going into this summer and fall, both goalies have something to prove.
Thomas McCullough is a staff writer for Dakota Student. He can be reached at [email protected]