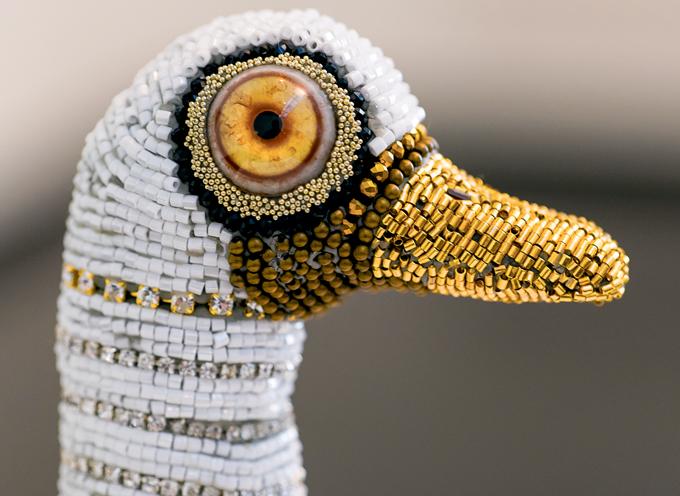 Dakota Student / Nicholas Nelson
Creativity and imagination are two words that can be linked to a number of career fields. The arts is a field often overlooked that displays these characteristics in spades.
University of North Dakota alumni, Matthew Wallace, the Deputy Director for the North Dakota Museum of Art, believes the arts are important for students to be engaged in, as they transition into adulthood. Like many others skeptical of the field, Wallace initially didn't see himself as a man of the arts either.
Graduating with a bachelor's degree in English, Wallace found himself confused as to what he wanted to do with his life. It wasn't until returning home from his time as a member of the Peace Corps, teaching English as a second language in Romania, that Wallace found himself a job at a museum in Washington D.C.
"I grew up in the world of art and literature," Wallace said. "I think I've always had a lot of varied interests, but I don't know if I'd say I knew my path right away. Although, I would say I've loved every minute of it since my decision to join the field."
Wallace had found his passion, working within the field of the arts. After working in D.C., Wallace relocated to his alma mater, UND. Hoping to continue the same work he had done out east, Wallace set out to promote artists work and showcase them in the states museum.
"The one thing we, as an organization, wanted to see is the chance for art created in our region to be recognized," Wallace said. "So we're able to notice new pieces that would've otherwise gone unseen."
Beginning Feb. 5 and ending Feb. 12, the North Dakota Museum of Art is showcasing works of art from all across the midwest. The museum is open from 9 a.m to 5 p.m. on weekdays and 1 p.m. to 5 p.m. on weekends.
There is an entree fee of $25. The money from the event will be used for the staff as well as the equipment necessary for the event to run in the studio.
"This is the first non curated exhibition that we've done," Wallace said. "If you are a painter, sculptor or an artist of any kind, you're allowed to bring in any piece to showcase for a week."
Not only have art pieces been provided by artists within the midwest states, but by the locals of Grand Forks, ND. Professors and students of the university have submitted work to be displayed during this week's event.
Despite the difficulties that come with organizing an event such as an art show, Wallace still manages to maintain a high spirit throughout the process.
"One of the things most fun about this, is thinking you have all of your exhibition laid out, Wallace said. "But once a new piece comes in, you're forced to play around and see what looks best with the other 110 pieces."
Wallace was asked to describe the types of pieces that have been shown in the past. He replied with several types of art that were not exclusive to paintings, and drawings.
"It really runs the gamut," Wallace said. "As far as the art we show, it could nearly be anything; video, paintings, photography, sculpture and installations are the variety of pieces we showcase, but during the summer we have an outdoor concert in the sculpture garden. We are sort of a cultural space."
Wallace enjoys the work he does. He wishes students could see the benefits of art as he has throughout his career. Even though art may not be as accepted, he doesn't stop trying to encourage those same students to attend the shows.
"Art displays who we are as people. Whether that's literature, visual arts or music," Wallace said. "Art is who we are."
Sheldon Hatlen is a staff writer for The Dakota Student. He can be reached at [email protected]