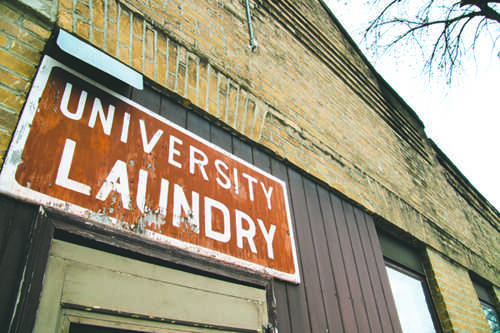 Daniel Yun
The most recent step in UND's campus master plan moved forward on Jan. 25 when the university officially asked the State Historical Society of North Dakota (SHSND) for an evaluation of the historical significance of eight buildings on campus slated for demolition.
The eight buildings are all currently vacant, or in the process of being vacated. Under state law, institutions of higher education do not need the approval of the state historical society for structural changes but will often go through the process as a courtesy.
According to Lorna Meidinger, architectural historian for the SHSND, three of the eight buildings are potentially historically significant: Chandler Hall, the Women's Center and the Era Bell Thompson Multicultural Center. One lead in particular indicates the Era Bell Thompson Center was possibly an early Black Student Union. Meidinger says this is the first lead the SHSND is looking into as they take advantage of the "collective memory" of local historians and organizations. 
Zack Petrick, founder of the Grand Forks Postcard Project, expressed dismay at the planned demolitions in a Jan. 25 Facebook post on the Postcard Project page that was viewed 57,000 times and shared 294 times.
In this post, Petrick criticized the university for a "lack of transparency as well as public input." Petrick also claimed in an interview with the Dakota Student that the university had changed their story about why they were going through with demolitions, originally stating they were to offset the budget for the new medical school, and now citing maintenance costs and space saving as the major factors.
"The University does have a plan for this space once these buildings are demolished," Petrick said.
Interim Vice President for the University Public Affairs Peter Johnson refutes these claims. He maintains that the demolitions are mainly motivated by the fact that the eight buildings collectively represent half a billion dollars in deferred maintenance.
"We have not always done things when maybe we should have over the years," Johnson said.
He stated that the university does not have any plans to build anything new on the vacant sites at this time, as another motivating factor for the demolitions is space-saving and consolidating.
In response to the criticism of the university choosing not to include the public on the decision, Johnson points out that UND has been talking about these specific demolitions for at least two years and has hosted several campus-side meetings about the issue.
"I suspect the fact that we're [now] using the term 'demolished' instead of taking offline has increased interest," Johnson said.
If the SHSND deems any of the eight buildings worth saving for historical record, their likely fate would to be purchased and preserved or moved by a local historical society or interested party.
The University still requires the permission of both the State Board of Higher Education and the North Dakota Legislature before moving ahead with the demolitions.
Diane Newberry is a staff writer for The Dakota Student. She can be reached at [email protected]