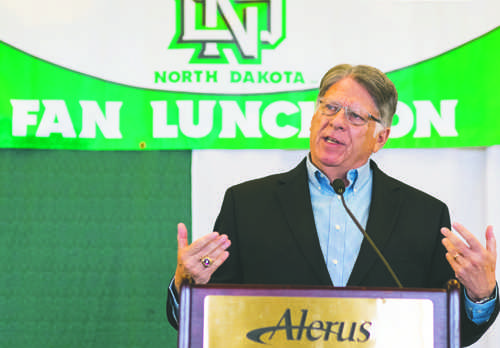 Nick Nelson
Athletic Director announces UND to move to the Summit League
After a record year in the Big Sky Conference, there is a new challenge on the horizon.
Last Thursday, UND held a press conference to announce changes to the athletics programs. Last time we were here the conference ended with two teams on the chopping block.
With head coaches Travis Brewster (WBB), Mark Pryor (SOC), Brian Jones (MBB) and Bubba Schweigert (FOOT)  present, Athletic Director Brian Faison announced UND has found a new home for most of the sports programs in the Midwest Summit League in the 2018-2019 season. With the move Faison also announced that UND football would be moved into the Missouri Valley Conference starting in 2020, since the Summit League does not sponsor football.
"This is a big, big day for UND athletics," UND Athletic Director Brian Faison said. "There's no question for us that these leagues are a great fit both geographically and competitively. It brings rivalries back, and more importantly, in a conference setting."
So what does this change for UND? For starters it reignites rivalries with North Dakota State, South Dakota and South Dakota State, but this move is even more beneficial to the budget.
"It was mentioned earlier that the conference alignment helps us from the expenses perspective," UND President Mark Kennedy said. "There's no doubt the university, depending on what the legislature does in the months ahead, will face tough decisions going forward. We have nothing to say on that now, other than we do face some continuing budget situations."
The cost to move wasn't cheap; both the Midwest Summit League and the Missouri Valley Football league have $300,000 and $250,000 entry fees, respectively.
It wasn't just a financial price tag either, for the next season UND will not be considered a full member of the Big Sky Conference which means they will not be eligible for the Big Sky regular season title, which both volleyball and football were able to obtain this year.
"This is an exciting move for our program's future because it realigns us with our past and the rich history we have with many teams in the Missouri Valley Football Conference," Schweigert said. "Our fans will also benefit from this because they can drive down I-29 to watch us play. With that being said, we are thankful for the Big Sky and the place it will have in our Division I history. We look forward to continuing to compete against those institutions in the coming years."
One of the bigger benefits that was noted by all coaches present was the greater ability to draw fans in, while in the Big Sky UND plays teams that reach Southern California and Arizona, the Midwest Summit League will keep the competition close for fans to travel.
"The Big Sky has been very good to us and it's been a great run there," Brewster said. "Going to a Midwestern league has positives for us for our student-athletes and our fan base, we look forward to being able to playing our in-state rivals and the I-29 corridor teams twice a year. That will be exciting for everybody. This has our student-athletes' best interest in mind as well."
This move also helps the attendance of UND Soccer, which has struggled to attract fans in the past with its extensive road schedule.
"I think that The Summit League will allow us to continue to grow in attendance with more regional rivalries," Pryor said.
UND will finish off their 2018-2019 season in the Big Sky conference and officially join The Summit League on July 1, 2018, and Missouri Valley Football Conference July 1, 2020 but will begin working immediately with the current membership on scheduling, marketing, and other conference matters.
Allyson Bento is the sports editor for Dakota Student. She can be reached at [email protected]