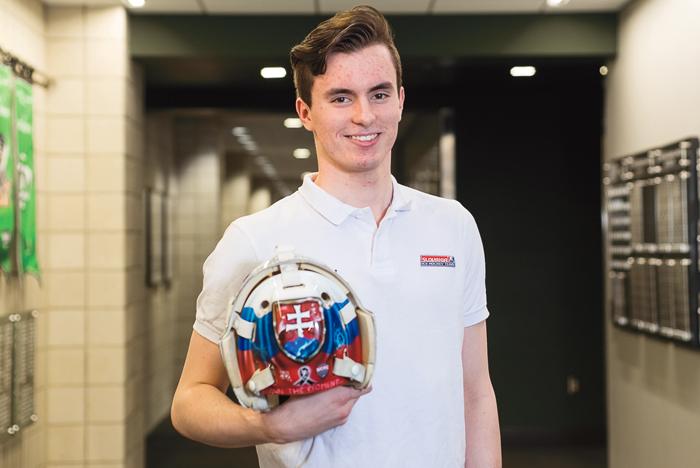 Dakota Student / Nicholas Nelson
Out of all the children who grow up wanting to be hockey players, only few make it in the big leagues, and only a small fraction decide to be goaltenders.
Born and raised in Bratislava, Slovakia, Matej Tomek made his way to the U.S. via the North American Hockey League playing for the Topeka Roadrunners before ending up at UND, and for him, the path seemed unanimous.
"For me and my parents, education was really important since growing up I attended all of the good schools," Tomek said.  "I think it just came naturally to me to choose a path that offered good education and hockey at the same time."
After just one season with the Roadrunners,  he sparked interest in many, including the Philadelphia Flyers organization, who drafted the goalie in the third round of the 2015 NHL draft and former head coach of the UND men's hockey program, Dave Hakstol.
Before being drafted by the Flyers, Tomek made another big decision by committing to UND and becoming a Fighting Hawk, and Hakstol had a heavy impact on this decision along with the perks of calling the Ralph Engelstad Arena home ice.
"I think coach Hakstol was a big factor," Tomek said.  "I really felt comfortable with him and trusting that this was the right decision, and the facilities here such as the Ralph, you can't really do better than that in college hockey."
As fate would have it, Hakstol accepted an opportunity to become head coach of the Philidephia Flyers leaving the Hawks program the season prior to Tomek's freshman year.
"I guess I just have to work my way up to him again, " Tomek said. "I mean I did it once but unfortuantly he left so I have to do it again."
Now in his second season with the Fighting Hawks, Tomek has been eagerly awaiting to take his turn between the posts as one of the current understudies to Junior starting goalie Cam Johnson. The 19 year old Slovak's patience and passion found him in a group of the elite, as the 2017 Slovakian World Juniors Championship program scouted Tomek to attend camps in December.
"It was obviously a dream come true and a big personal accomplishment," Tomek said. "Since I was a kid I dreamed about it seeing all these players play on this big stage and move on and be successful and make it to the NHL."
This dream is international when it comes representing your country. Tomek's UND teammate Tyson Jost represented Team Canada during the tournament and solidified that it was a truly speechless experience.
"I can't really explain it," Jost said. "To say the least it was an awesome experience, it's something I've dreamed about since I was a kid and if there's anything I can take from it, it helped me gain a little more confidence to come back here and help this team win."
Jost and Team Canada went on to win the silver medal after falling to team USA in a shootout.
Tomek is the third goaltender to represent UND in the World Juniors but the first Slovakian. The 2017 World Juniors is the second time that Tomek has had the honor to attend the camp and represent his country, he first wore the jersey in the 2015 World Juniors as the starter for Slovakia.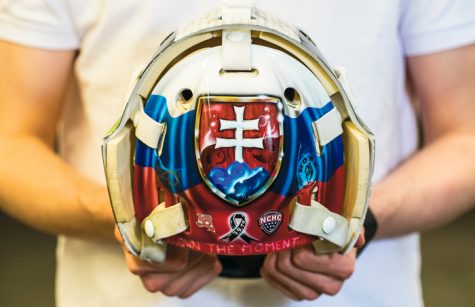 "It was a lot of fun, I got to see every kid I grew up playing with and against. I had a couple teammates on the team who I grew up playing with since I was three or four years old," Tomek said. "I just tried to do my best because I didn't know what role I would have on the team coming into the camp so I just worked hard and hoped for the best and I think it turned out very well."
Throughout the tournament, Tomek took an interchangeable role with the University of Conneticut's Adam Huska. He made a big start against the gold medal team USA, he made 45 saves on 50 shots as the Slovakian's fell 5-2 to USA.
"It was a great experience," Tomek said. "Playing against the greatest players in U.S. college hockey and facing a lot of shots kept me busy."
The Slovakian team was eliminated in the quarterfinals by Team Sweden, 8-3, but the experience gained from the World Juniors is something Tomek will carry with him back to Grand Forks.
"I think UND really prepared me for everything that I could give out there at Juniors, such as working your hardest every day on and off the ice and being a good teammate," Tomek said. "It was a good experience for me too, after not playing a competitive game for a long time and playing against some really skilled players that are the top of our age group was definitely important so if I play I'll be ready."
Allyson Bento is the sports editor for The Dakota Student. She can be reached at [email protected]