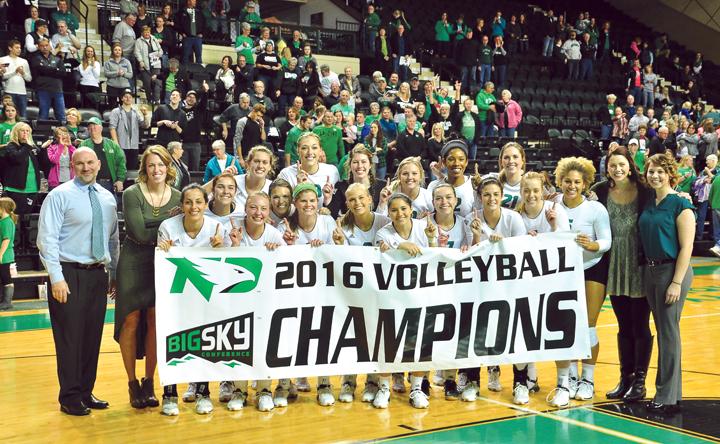 Dakota Student / Daniel Yun
What a week it was for head coach Mark Pryor and the UND volleyball team.
The Fighting Hawks set themselves up perfectly for a massive week, and they took care of business with dominating victories over Northern Arizona, and Northern Colorado.
Both the Bears and the Lumberjacks were in the same boat as UND, as they were both looking to win the Big Sky and host the conference tournament.
"It's amazing, I'm shaking right now," Chelsea Moser said. "I've wanted this for so long for this program and we finally got it."
With a 3-0 victory in Flagstaff, followed by a 3-0 win over the Bears at the Hyslop, UND will get to host the conference tournament this Thursday through Saturday. The win on Saturday was followed by an exciting victory by Bubba Schweigert and the UND football team to win the conference title as well. Things are looking up in Grand Forks.
Unlike the football team, who is already in the NCAA playoffs, the UND volleyball team needs three more wins to make the NCAA FCS tournament, which would be the first time in school history.
UND will go into the Big Sky tournament on an eight  game winning streak, which brought them to 14-2 in the Big Sky.
"It feels good," Pryor said. "All of the hard work that they put in since the end of June, they deserve it. There are lot of people that I believe had a part in this championship.  First of all, these young women have absolutely earned it.  They have simply put their mind to the task at hand, and they worked for it.  The hours they have put in has paid off.  They have not had anything given to them.  They earned it, and they are so deserving of this conference title."
UND also eclipsed the 20-win mark for the fourth straight year, and capping their 8th 20-win season in the last nine seasons.
The Hawks were jump started by a victory over the Clemson Tigers back in September. That was UND's second overall victory over a Power 5 team in school history, their 1st being a victory over Ole Miss in 2014.
Being at home might change the fortunes for UND in the Big Sky Conference tournament. UND is making its fifth appearance in the conference tournament, but it hasn't fared well by any means.
UND is 1-4 in the conference tourney all time, with their only victory coming over the Griz of Montana in 2013. Last season, UND was upended in five sets by Idaho in Flagstaff, Ariz. UND fans will be seeing a familiar face in the Betty this Thursday as it will be those same Vandals the Fighting Hawks will be looking to knock off.
Since the Betty Engelstad Sioux Center opened in 2004, UND is an outstanding 109-44 in 12 years at their home. That will be key this weekend as well, as the Hawks will look to make history.
The eight teams making their way to Grand Forks will be Eastern Washington, Northern Arizona, Sacramento State, Northern Colorado, Portland State, Idaho, Idaho State and the hosts of the tournament, UND.
UND has been dominant against every team making their way up to Grand Forks. The Hawks are a combined 8-2 against those seven teams, with the only losses being to Northern Colorado, and Idaho State. UND beat their first round opponent, Idaho, twice during the regular season.
It has been one heck of a season for Mark Pryor and his squad, and the only thing that would make it better would be to win three more games in front of the home crowd, and make their way to the NCAA Tournament for the first time in school history.
Hunter Plante is a staff writer for Dakota Student. He can be reached at [email protected]