Tyson Jost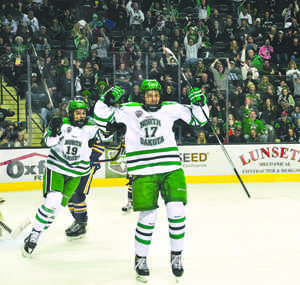 "I'm just going to do whatever it takes, that's just my personality. Bringing whatever I have to the table and whatever the coaches ask of me."- Tyson Jost UND freshman forward
A player can wear many jerseys in his career, with some of the most sought after jerseys being from the NHL, and the other from your nation. At the age of 18, Tyson Jost has proudly worn both, and he takes honor in suiting up in one more as a Fighting Hawk.
Jost was selected 10th overall in the first round of the 2016 NHL Draft by the Colorado Avalanche. The emotion in that moment tugged on heartstrings of viewers as he made his way through his celebratory hugs with family members, and viewers watched as tears rolled down his grandfather's face.
The self-proclaimed momma's boy made sure to hold on tight to his mother before making his way to the stage.
"It was a whirlwind," Jost said. "I can't really explain it because everything happened so quickly. I guess the first reaction I had was pretty emotional, me and my mom have a pretty special connection. I just wanted to be with them but obviously I had to walk up onto the stage."
While it truly does take a village to raise a child, Jost is quick to boast his mother's warrior mentality that makes her his inspiration.
"She's a single mom. She raised me and my sister all by herself since I was four or five years old," Jost said.  "To look at someone like that, such a strong lady and all the sacrifices she made for me and my sister is something that is really special."
The woman who raised him, worked around the clock and still found time to get him to his games. With help from his grandparents when necessary, Jost has a truly honorable village to thank for where he is today.
"I'm so happy I had someone like her in my life and obviously my grandparents were always there for me too," Jost said. "But my mom is someone I'll always admire and look up to with how much she works and how much she sacrifices for me and my sister, that is someone who motivates me and I just want to make her happy and do everything to make her proud."
Adding new members to his village, Jost is sliding into his new jersey at the University of North Dakota and gaining a whole new group of guys who are mentors, friends, teammates and family. 
"I'm so happy I'm a Fighting Hawk or a Fighting Sioux whatever you want to call us," Jost said.
With the ongoing identity crisis as fans adjust to the new name, it's still clear to Jost that the tradition imbedded within UND hockey is still one of the greatest in the nation.
"I think just the tradition that comes with this program is special and I mean you look around at the Ralph and the fans that we get every night," Jost said. 
"Honestly, it is what you dream of when you're a kid and it's like I'm in the NHL here. It's almost just as good as NHL games, so to play my first game there in the exhibition to a sold out crowd, it speaks to how great this program is," Jost said.
The Alberta native had the opportunity to play with fellow teammates Colton Poolman and Dixon Bowen in the BCHL for the Penticton Vees and he played a big role in getting them situated with British Columbia.
"Colton and Dixon came in there in my second year with the Vees," Jost said.  "So I was kind of the guy to walk them through things, obviously they were new to the program there in Penticton and I'd always pick their brain about things in North Dakota because they're hometown guys here."
Since committing to UND, the role has reversed and Jost is glad to take the back seat and allow Poolman and Bowen to return the gesture.
"They filled me in on what it's all about and it made me that much more excited to come here and now they're kind of showing me the ropes," Jost said.  "It's special to come here with guys you already know because it brings that atmosphere, that friendly atmosphere that makes things a little bit better."
Now that Jost has settled in, played a few games, grabbed his first collegiate goal and two assists, the future of his college career looks promising.
Jost has taken one of the big vacancies in the line-up, beside sophomore forward Brock Boeser as Junior Shane Gersich takes the final spot in that line.
The three forwards have risen to the top spot in the statistics, as Gersich joins Jost with three points,  two goals and an assist, and Boeser jumps in the top spot with a single goal and five assists.
Jost and his new line mates were not the only ones to contribute in the home opener, six different players assisted in the 6-0 final. This reloaded team shows promise from every line.
"I just want to do anything to help them win another national championship," Jost said.  "I mean if that's killing penalties or if that's on the power play I'm just going to do whatever it takes that's just my personality bringing whatever I have to the table and whatever the coaches ask of me."
Though his talent and dedication landed him in a line with Boeser and Gersich, Jost is not worried about where he plays in the lineup, as long as he can contribute to the teams overall success.
"I'm not going to be someone who thinks they have to be on the first line; if I'm on the fourth line I'm on the fourth line," Jost said.  "I just want to come here and really help this team try and win another national championship and that's one of my goals, is to raise another banner here."
Jost hopes to develop further as a player in the Fighting Hawks program and it's unsure how many years he will stay before signing an NHL contract, but for the time being UND fans will enjoy his presence on the ice as they proudly cheer him on at the Ralph Engelstad Arena. Welcome home, Jost.
Allyson Bento is the sports editor for The Dakota Student. She can be reached at [email protected]