Anti-social media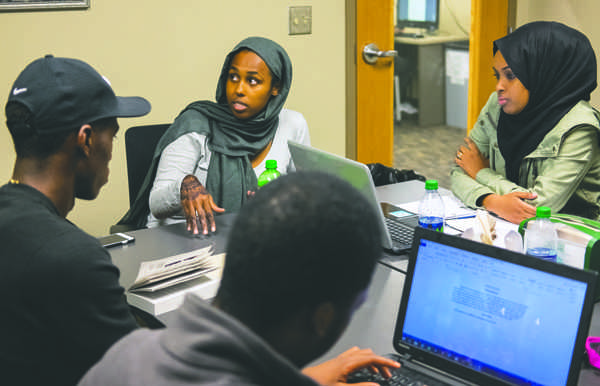 A photo taken from a Snapchat story has been making waves at the University of North Dakota.
Late Tuesday night, Sept. 20, a screenshot photo from a Snapchat story of a UND student was posted online. The photo was quickly shared and brought to the attention of UND administrators.
The photo features three students, one of which is wearing UND apparel, smiling inside of what appears to be a dorm room with text reading, "Locked the black b**** out" directly below them.
The University of North Dakota Police Department released this statement:
"On Tuesday September 20, 2016, at approximately 10:45 p.m., officers from the University of North Dakota Police Department were dispatched to a report of a harassment complaint.
Based on information obtained during the interview of the complainant, officers forwarded the complaint to the Office of Student Rights and Responsibilities for the initiation of an administrative investigation to coincide with the inquiry conducted by the University Police Department.
If anyone has additional information regarding this incident, they are asked to contact Sgt. Danny Weigel at University of North Dakota Police Department (701)-777-3491."
Student reaction
Newzaira Khan, Jasmyne White, Ishino Shukri, Ifrah Esse, Warren Sai, Tony Afanya and Olivia Akinpeke are all students studying at UND. Escaping to the Multicultural Center, a place they say is their only safe haven on campus; the students can spend time together, study and discuss the issues they deal with everyday.
Seated around a table, the students discuss their distaste with the photo currently making the rounds on the Internet. The students say that this incident is not an isolated one — it's simply being reported.
"That type of behavior, it's just not documented," Esse says. "It's nothing that we haven't experienced." Calling for action, the group says the issue needs to be addressed at the administrative level. The students suggest the creation of a group designated to deal with acts of discrimination against other students.
They say that if there were a source for those discriminated against to use, they wouldn't feel like they had no one to go to in similar circumstances.
"We feel like that doesn't exist at the university," Esse said. "When these things do come up, we don't have anyone to go to that takes our concerns seriously and then does something about it."
Believing people have a tendency to discuss racism in too cavalier a manner, the group believes this incident might serve as a catalyst for awareness.
"This incident proves that it is real," Esse says. "This is something real that's happening, and people should take it very seriously. A campus setting is a setting you're supposed to feel like who you are and what you are is welcomed and accepted, and the way to do that is you have to respect people."
Despite their disapproval of the photo, the students are glad that this incident can bring light to the issue and get people talking.
"We don't want for this to do die down and for things to go back to how they were, and for this incident to just be dismissed," Esse says. "I think the majority of the students felt like we really didn't have anyone to go to when these things came up."
The group says that whether the students in the photo were joking when they posted the photo to Snapchat or not doesn't matter. They assert that if a joke is offensive to a particular group of people, it ceases to be funny. Calling the photo "blatantly racist" and "rude," the group believes that such a serious topic is not one to joke about.
"Keep your jokes and negative opinions to yourself because this is a campus that we all share," Esse said.
The students say similar incidents happen all the time. They believe this incident should bring the discrimination they deal with on a regular basis to light.
The group is also troubled by the fact the students featured in the photo felt comfortable enough to do what they did in the first place. This fact makes the students wonder what incidents are happening on campus and simply not being reported.
The general consensus amongst the group is that UND is unwelcoming, as well as unsafe. The students feel like more could be done to make multicultural students feel safer at UND.
"Lets have our words and our actions match," Esse says. "If you really want this university to be a diverse university, and you want students of color to come here and flourish, create a system that that's possible, and anyone who threatens that, enforce what your overall message is and what your overall goal is, which is to make everyone welcome."
Matt Eidson is the news editor for The Dakota Student. He can be reached at [email protected]