Full Slate in 42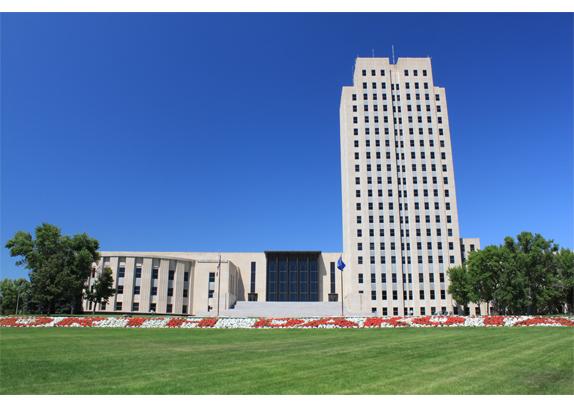 Members of the UND community and other voters in District 42 have a full slate of candidates to choose from to represent them in the North Dakota Legislature come this fall.
District 42 surrounds UND's campus and is currently represented by Reps. Kylie Oversen and Corey Mock and Sen. Mac Schneider, who serves as the Minority Leader. All three are members of the North Dakota Democratic-NPL party.
Mock has moved out of District 42 and has announced that he will seek office in District 18, which encompasses the northern part of Grand Forks. Grant Hauschild, associate director of development at the UND Alumni Association and Foundation, is running as the Dem-NPL candidate to replace Mock..
UND student Jake Blum and Emily O'Brien announced earlier this month that they are running for the House in District 42 as Republicans, while former legislator Curt Kreun, also a Republican, is challenging Schneider for the senate seat.
Here is an overview of each candidate running for office in District 42:
Jake Blum (R):
Blum is a Republican candidate vying to represent District 42 in the N.D. House of Representatives. He is originally from Plymouth, Minn. and is majoring in political science and criminal justice at UND.
Blum said it was a desire to become more involved in his community and address problems facing the state that inspired him to seek a spot in the Legislature.
"I've always been pretty politically involved," Blum said. "After a while I just saw that there is a opening, and I wanted to do what I could to help my community. I think this is the best way to do it."
As a student, Blum is focused on issues involving UND and general college affordability. He spoke about how an uncertain budget environment, the Legislature needs to keep education a priority.
"We need someone to make sure they don't try to foot the bill. I think social mobility in general is one of the biggest issues facing everyone graduating," Blum said. "We need to keep working to keep UND competitive and a place where people want to hire from."
He stressed the state government needs to ensure North Dakota has a good business environment, including things such as low taxes and support for small business, to create a more a diverse economy during the dip in commodity prices.
"Our platform exemplifies our commitment to creating and sustaining jobs, keeping education costs low and keeping government spending in check," Blum said.
In addition to issues involving the budget and economy, Blum said the state should work with federal authorities to address some of the criminal activity that has come to the state.
"I know the boom is over, but we still need to focus on a lot of the crime going on in the western half of the state and the human trafficking," Blum said. "A lot of people don't talk about that, but it's a huge issue."
Blum currently serves as the state government affairs commissioner for UND Student Government. This position acts as a liaison between Student Government and other government bodies, including the state and city. Additionally, Blum has interned for Congressman Kevin Cramer, R-N.D., and previously worked as a state chairman for the student arm of U.S. Sen. Marco Rubio's presidential campaign.
Grant Hauschild (D):
Grant Haushild is seeking the House seat in District 42 that is being vacated by Corey Mock. Hauschild is currently an associate director of development at the UND Alumni Association, and he previously served as an economic development specialist at the U.S. Department of Agriculture and as legislative aide in the office of U.S. Senator Heidi Heitkamp, D-N.D., in Washington D.C.
"At the USDA, I learned about economic policies that worked and haven't worked. One area that we focused on was regional economic development strategies. That's something that the Red River Valley, Grand Forks and Fargo in particular, are very focused on," Hauschild said, adding that when he worked for Heitkamp, he worked on issues specific to North Dakota, including labor relations, the postal service and the federal workforce.
Hauschild graduated from UND prior to working in Washington D.C., and earned a master's degree in public policy at George Washington University during his time there. He served as student body vice president while at UND and mentioned that the university must work to provide a high-quality education to its students.
"How do we find these sort of niche areas we aren't just not embracing our strengths but we are enhancing them?" Hauschild said, noting the role that both unmanned aircraft systems technology and petroleum engineering play in the state. "Where can we invest strategically given our  budget concerns that can ensure UND is a premier university in the region?"
While the state budget is taking up a lot the local political conversation, Hauschild mentioned he would like to address the state's voter ID law if elected to the legislature.
Last legislative session, North Dakota's voter ID law was changed so that voters are required to have a valid ID with their current address in order to vote. While proponents of this law argue that it clarifies the voting requirements in the state and prevents voter fraud, critics say that instances of voter fraud were very rare, and the new law makes it difficult for certain populations to vote, notably college students and Native Americans.
"This could impact hundreds if not thousands of students if they don't have an updated address on their license," Hauschild said. "We had very well run elections and we can again. Having the right to vote is a fundamental right, and so we need to ensure our students continue to have that."
Curt Kreun (R):
Curt Kreun, who represented District 43 in the House from 2010 to 2014, announced that he will be seeking the Senate seat held by Sen. Mac Schneider.
Kreun graduated from Mayville State University with a degree in education and has a long history of involvement in the business community and local politics in the Grand Forks area. In addition to being a member of the Legislature, he represented Ward 7 on the Grand Forks City Council from 2000 to 2012.
He also served on the East Grand Forks school board for 16 years and was the owner of several small businesses in Grand Forks, including a child care center, water hauling and fertilizer service, laundromat and housing rentals. He has been active throughout his career serving on boards of local organizations including the Salvation Army and the A.M. Rotary Club.
Kreun highlighted the importance of infrastructure, including roads, electrical, sewer and water systems, as part of his platform, describing these needs as foundational to making North Dakota a place where people want to live and businesses want to come to.
"The infrastructure needs of the oil patch have rightfully received a great deal of attention in recent years, but our people can't afford Grand Forks getting lost in the shuffle," Kreun said. "Whether it's securing the funding to keep our roads safe or addressing our long-term water needs, I will work vigorously to ensure our community will not be forgotten in Bismarck."
Kreun spoke about the importance higher education will play over the coming years in making sure that Grand Forks and the state have a properly trained workforce. He said that while maintaining costs is important, it also is essential that universities produce the graduates that have skills that the labor market demands. Part of this will involve working with local
businesses to ensure graduates are ready to enter the workforce, Kreun said.
The combination of a skilled workforce and properly functioning infrastructure will attract companies, which will in turn result in higher paying jobs in the area, according to Kreun. He said this sort of good business environment is an important part of ensuring long-term economic growth both locally and statewide.
While the state is experiencing a budget crunch currently, Kreun was optimistic about the long-term budget outlook for the state, noting that a lot of the increased spending was associated with extra state expenses due to the oil boom. He said that consensus building in the Legislature will be an important part of putting the state in solid fiscal standing while maintaining essential public investments.
Emily O'Brien (R):
O'Brien is a Republican candidate seeking one of District 42's seats in the House of Representatives. She is a currently a graduate student in entrepreneurship at UND and  an entrepreneur consultant at UND's Center for Innovation.
O'Brien has been a student at UND for six years and has a bachelor's degree in entrepreneurship. She spoke about striking a balance between making education affordable and ensuring it prepares students to be members of the workforce in North Dakota.
"I'm not saying tuition should be free, you have to fund it somehow," O'Brien said. "But the way students loans are going, how can we make this more affordable for students? How do we increase scholarship opportunities? How do we create more job development programs? How do we keep students in Grand Forks?"
Entrepreneurship and small business development in North Dakota are priorities in O'Brien's platform, stemming in part from education and work experience. She is the current chairwoman of the Dakota Venture Group, a student-run venture capital fund that attracts businesses to North Dakota and assisting small business development is an important part of diversifying the economy, according to O'Brien.
O'Brien said making sure the state has good paying jobs is an important part of helping young professionals stay in the area after graduation.
"Wages have lacked necessary growth, and financial aid and scholarships have been insufficient relative to the significant increases to tuition and fees," O'Brien said.
A program highlighted by O'Brien in assisting with small business growth is the North Dakota Commerce Department's InnovateND  program. Innovate is program that assists aspiring entrepreneurs with technical assistance through one of the state's certified entrepreneurial centers. Participants receive grants and business planning assistance in exchange for an entry fee that starts at $250.
With the changing economic environment in North Dakota, O'Brien said that proper budgeting, along with developing alternative sectors of the economy, are an important part of the state's long term growth.
"As the price of both oil and farm commodities are down, responsible fiscal management, economic diversification, keeping property taxes down and adequate infrastructure funding is required, but difficult," O'Brien said. "It is important to have legislators with not only business and budget skills, but also to serve as a member of the majority party to have considerable input on the results."
Kylie Oversen (D):
Oversen is a District 42 representative, as well as the chairwoman of the North Dakota Dem-NPL.
She is currently a third-year law student at UND, and was first elected in 2012 during her senior year at the university. She was the student body president as an undergraduate.
"Being a student while running and serving in the Legislature allowed me to have a different perspective on higher education issues as we were discussing them," Oversen said. "It's definitely a different perspective, and it's a different work-life balance than those who are working full-time or raising a family."
In 2014, Oversen was recognized as the "Woman of the Year" by the North Dakota Women's Network and was included in a Washington Post blog's "40 Under 40" list. She described the balance between being a part of the Legislature, a law student and chairwoman of the party.
"It's a lot on my plate, but it's also a lot of fun to see the overlap between law school and the Legislature and the political party structure," Oversen said. "Dealing with policy issues in the Legislature while also learning the legal implications while in law school, learning how to draft laws and interpret laws."
Oversen said a lot of the focus right now is on the budget problems, but she highlighted the need to address human services issues in North Dakota as well. Many of these services were already lagging in the state, and some will be even further hampered by the recent budget allotment, according to Oversen.
"I serve on the human services committee both during sessions and in the interim. So the priorities I see are often focused in the human services area," Oversen, who studied social work as an undergraduate, said. "There are significant needs behavioral health and substance abuse services, there is a really severe shortage across the state."
She sponsored a bill last legislative session that would have frozen tuition in the NDUS system. While this bill was not passed, the legislature ultimately set a 2.5 percent cap on tuition increases.
Also relevant to college students will be conversations during the legislative session related to campus police jurisdiction. Currently, three universities in the state have their own police departments: UND, NDSU and the North Dakota School of Science in Wahpeton.
"It's a pretty important issue for us here at UND," Oversen said. "I know our police department has been following pretty close and have been advocating for a change to that."
Mac Schneider (D):
Schneider is seeking reelection to his seat in the Senate this fall. He was first elected to represent District 42 in 2008, and he became minority leader of the Senate after former Sen. Ryan Taylor, D-Towner, stepped down from the position to run for governor.
He earned a bachelor's degree in history from UND and went on to graduate from Georgetown Law School in 2008. He now works as an attorney in Grand Forks.
With the recent budget allotment and withdrawal of funds from state savings to cover the state's budget shortfall, Schneider said that focusing on education would be important for the state's economy.
"The budget difficulties are a reminder that we need to diversify our economy through investing in education, K-12 up through our universities," Schneider said, noting the economic benefits that come from UND's ties to UAS industry and other research projects. "This will make our economy less prone to swings in global commodity prices."
The recent budget issues in the state could have been addressed by the Legislature if there would have saved five days at the end of last legislative session, according to Schneider. The North Dakota Constitution limits the legislative session to 80 days per biennium, and the Legislature needs to have extra days in order to reconvene as a whole during the interim period.
Schneider said he would have strongly preferred the Legislature to make the decisions regarding which spending should be cut, rather than it being automatic and across the board.
Schneider mentioned there were large yearly tuition increases during his time at UND, and that during a time of budget uncertainty, the Legislature should avoid "balancing the budget on the backs of students."
Schneider highlighted the bi-partisan effort the Legislature made in 2013 to allow the Bank of North Dakota to consolidate and refinance student loans at a lower rate through the DEAL One Loan program. He said programs like this are an important part of helping to ensure college is affordable for North Dakotans.
Additionally, Schneider discussed the efforts of the Legislature, led in part by Tim Flakoll, R-Fargo, and chairman of the Senate Education Funding Committee, to pass legislation that will put a constitutional amendment on the ballot this fall to create a higher education scholarship endowment in North Dakota.
The money for this endowment will come from the The Foundation Aid Stabilization fund, which is funded by oil extraction taxes and was used in part to shield education spending from budget cuts following the recent allotment.
Sean Cleary is editor-in-chief for The Dakota Student. He can be reached at [email protected]