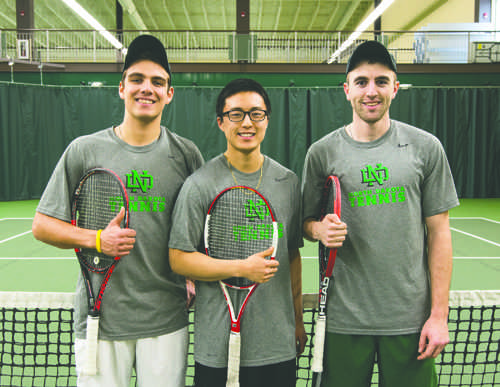 Dakota Student / Nicholas Nelson
UND tennis players David Bergstrom, Joe Lee and Connor Oberle take a break from practice in the Choice Health and Fitness Center. Photo by Nick Nelson/The Dakota Student
The UND tennis team may be newer than most programs, but three seniors have been there through it all.
For seniors, the final season playing their respective sport is something special. It is the last time they have to try and make a mark on the program.
For the seniors on the UND men's tennis team, graduating is a mark in and of itself.
David Bergstrom, Connor Oberle and Joe Lee comprise the 2016 seniors for the team. They are the first class of seniors who were there at the start of the program and have played through four seasons.
UND first started its Division I tennis program in 2012. The problem with starting a brand new program is it is like starting over from scratch to find players since there hasn't been any previous recruitment. Coach Tom Wynne was at the forefront of finding new players.
"Tom talked to me about it, and we visited a couple times," Oberle said. "I was looking for a place I could play at right away and close to home."
For the other two seniors, their majors played a big role in deciding to play for the Fighting Hawks.
"I wanted to be able to major in mechanical engineering and also play tennis," Bergstrom said. "UND has a great mechanical engineering program and the opportunity to play tennis in the Big Sky conference."
Since UND is now Division I and in the Big Sky, they get to travel to many different places around the country.
All three agreed that they liked traveling and seeing new places. They also all agreed it was nice to get out of the cold as well. For Lee, there is another big factor in traveling.
"I love all the good food," Lee said. "In-N-Out Burger will change your life. It's amazing."
For this season, the goal of the team is to make it to the conference tournament. With being a new program, the seniors want to start and leave behind a tradition of excellence for the next    iteration of the UND tennis team.
"Getting older on a team is interesting," Oberle said. "One of my favorite experiences is to have the freshmen come in and show them how we do it here and get them onto the right track to getting better every year."
Unfortunately for the seniors, the team has taken a step back this season. The Fighting Hawks have gotten off to a poor start by starting off the year 0-5. To its credit, UND has played tough and been on the opposite ends of some close matches.
The last few years, the Fighting Hawks tennis team has hosted a three-match homestand in three days. This presents a tough situation for players.
To play three matches in three days against three different schools is tough. For the seniors, this will be their third time doing this.
"You spend a lot of time here at the court," Bergstrom said. "You just have to be prepared and stay focused."
To play three matches in such quick succession, the players must have a love for the game. It is a grind and cannot be taken lightly by the players.
While all three love the game of tennis, they all have different reasons as to why.
"To me, tennis is 20 percent skill and 80 percent intellect," Lee said. "I like that power isn't the main factor. It's about how you play the game and intellect."
The team starts its three games in three days stretch against Sacramento State at 5 p.m. today at Choice Health and Fitness. The players face off against Weber State at 1 p.m. on Saturday and finish the weekend off against Idaho at 9 a.m. on Sunday.
Adam Gunderman is a sports writer for The Dakota Student. He can be reached at [email protected]