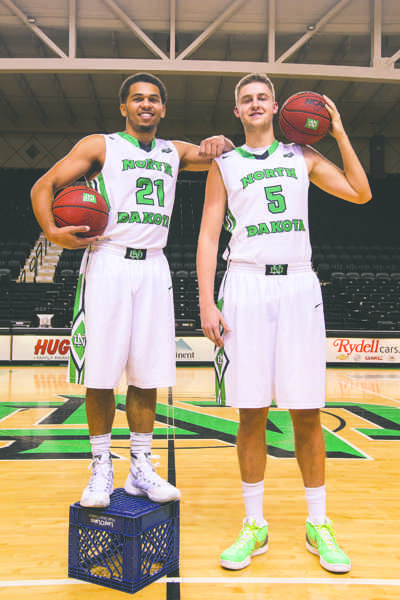 Dakota Student / Nicholas Nelson
Quinton Hooker and Carson Shanks posing. Photo by Nick Nelson/ The Dakota Student
Imagine having the opportunity to play alongside your best friend in a collegiate game.
For Carson Shanks and Quinton Hooker, neither have to imagine it, as the opportunity has become a reality.
"We were best friends growing up," Shanks said. "We grew up playing together. Every weekend we'd sleep over at one of our houses."
The childhood friends always hoped to play with each other in college. Shanks spent his high school days playing for Prior Lake High School before committing to Utah State, while Hooker played for Park Center in high school. The two also played alongside each other in AAU basketball for the 43 Hoops squad.
It was not until a transfer from Utah State that Shanks and Hooker were able to represent the same school last year.
"It's actually pretty crazy," Hooker said. "We've been playing together since sixth grade and we had the dream to play together in college. At first it didn't work out, but it all just kind of worked out. Just to play with your best friend is a lot of fun."
After sitting out the fall semester of the 2014 season due to NCAA transfer rules, Shanks and Hooker were finally able to play alongside each other and becomes keys to the squad.
Shanks was able to use his 7-foot, 245-pound frame to put up an impressive 27 blocks in the 19 games he was eligible.
While Shanks was just getting used to life in a Green and White uniform, Hooker had to step up and be the leader.
The junior lead the team in points per game and also started all 30 games of the 2014-15 campaign, including ending the last nine games averaging 22 points per game.
Shanks admitted when the two have played together, he sometimes reflects on being able to play with his best friend for the same school.
"It's funny, growing up, we always talked about playing together," Shanks said. "Now sometimes I'll stop myself on the court, playing with him and I'll be like 'Oh wow, we're doing this. We're really doing this.' Playing together, it's pretty awesome."
Growing up, everyone has a favorite player. Minnesota native Shanks said his choice was easily Kevin Garnett, saying how he was his hero growing up.
While Shanks was always partial to centers, Hooker has always admired the great point guards of the NBA, saying Magic Johnson and Chauncey Billups are his favorite players.
"I would have to choose Magic Johnson," Hooker said. "The way he played the game, he controlled the entire play."
Being fans of basketball, the movie "Space Jam" was always on while the two were growing up, and Shanks definitely knew who he would be in the Toon Squad.
"It's boring, but you got to go with Michael Jordan," Shanks said. "He's the best ever."
UND had an opportunity to fine tune itself early this past summer with a trip to Italy and France to play basketball.
"I thought it was great for us," Hooker said. "I mean just as far as a team standpoint, it helped us build our chemistry, and we have a lot of freshman and a lot of new guys right now, so it allowed us to be with each other, get to know each other a lot more than just at practice."
"It was awesome," Shanks said. "From a basketball perspective, it was great to go play over there but as a bonding experience for the team, it doesn't get any better than that. Seeing Europe for the first time was pretty unbelievable."
With the arrival of new faces, nobody is left unwelcome as the trip to Europe has strengthened the squad's bond.
"There's very few times we're not together whether we're in season or out of season," Shanks said. "It is like a family atmosphere. We're always together."
The team got a little more fine tuning before today's season opener in Madison, Wisc. Last Sunday, UND faced off against Minnesota-Morris in its only exhibition game of the year.
The Green and White dominated the Cougars 99-69, with both best friends contributing to the win.
Shanks had an efficient day, putting up 10 points, eight rebounds and two blocks in only 19 minutes of work.
Hooker had an off shooting day, shooting five of 13 for 12 points, but made up for it with his passing and defense. The junior had seven assists to zero turnovers and three steals.
Shanks and Hooker have had a bond on off the court for years ,and now they finally get a full season to turn that chemistry into production on the court.
Jack Harvey is a sports writer for The Dakota Student. He can be reached at [email protected]