Bail set for UPD officer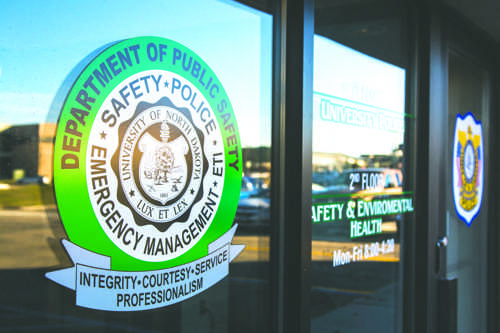 Paul Meagher had been employed at the university since 2004. Photo by Nick Nelson/ The Dakota Student.
On Nov. 3, at approximately 6:30 p.m. investigators arrived at the apartment of University Police Officer Paul Bradley Meagher to serve a search warrant for all computers and related peripherals at the apartment.
Investigators met Meagher before serving the search warrant. When asked, Meagher consented to going back to his apartment with investigators, and unlocked the door when they arrived. Meagher remained in the apartment while investigators conducted the search.
Investigating Officer Jesse Smith previewed a laptop found at Meagher's apartment. The laptop was on when investigators arrived, and was accessing FreeNet on a wifi signal downloading images. During this preview Smith located images of child pornography on the laptop's hard drive.
After the search, Meagher was arrested and read his Miranda Warning, and decided not to talk to investigators. He was charged with 10 counts of Possession of Certain Materials Prohibited.
Meagher made his first court appearance via television from the Grand Forks County jail. His private attorney, Alex Reichert, appeared in court to argue Meaghers bail.
During the hearing, Grand Forks County Assistant State's Attorney Brittney Blake said that law enforcement found 60 zip files believed to be child porn being downloaded onto Meagher's laptop as well as about 100,000 videos and pictures of child porn.
Blake claimed that the seriousness of Meaghers charges justified a $150,000 bond, however Reichert argued that this amount was excessive. Reichert argued that Meagher's hiring of him showed that Meagher wasn't a flight risk, and that a smaller bail would suffice.
Reichert also brought up the case of former UND department chair Robert Beattie, whose bail had been set at $25,000. Reichert argued that Beattie clearly had far more resources than Meagher.
After the hearing, Grand Forks District Judge Debbie Kleven set the bail at $15,000, and ordered Meagher not to be around children unsupervised or access the Internet.
Alex Bertsch is the editor-in-chief for The Dakota Student. He can be reached at [email protected]