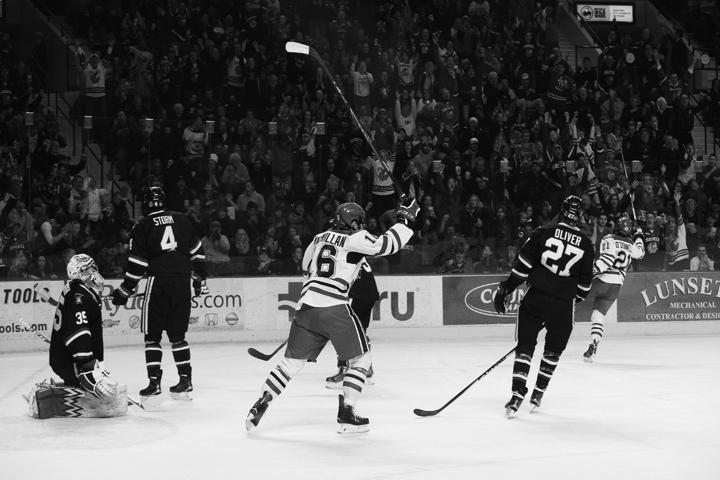 Mark MacMillan (center) celebrates after a UND goal last weekend at Ralph Engelstad Arena. Photo by Nicholas Nelson/The Dakota Student.
North Dakota knows what it's like to fall short of goals.
Last season, the UND men's hockey team was unable to capture the NCHC league title and eventually was cut out of the Frozen Four tournament before the championship game.
"That feeling that sits with you for such a long time," UND senior forward Michael Parks said.
This time, though, the team made sure it wouldn't happen again.
North Dakota has already clinched a share of the Penrose Cup with Miami, but will travel to face the RedHawks in hopes of claiming the entire trophy for itself.
With a single point, UND would secure a spot as the regular-season champion ahead of Miami.
For a team that is riding a 4-game win streak and lost only one time in its past 13 games, UND coach Dave Hakstol has been pleased with North Dakota's performance.
"Our team has played really well, and, for the most part, played a full 60 minutes over the past few months," Hakstol said. "There's been one or two games where the other team has had a good push, but the other teams are pretty good too. At times, you have to get through and survive a couple of minutes during a period during a game.
"I think we've done a great job of recognizing that and I think this team has the confidence and the intelligence to understand situations and know how to work through them, so I've been very happy with our complete play, especially over the last month."
One particular situation North Dakota will have to work through is filling the gap this weekend with the loss of Mark MacMillan, who blocked a shot last weekend and will be out indefinitely.
During the first period of Saturday's Senior Night, MacMillan was on the ice during a 5-on-3 penalty kill and took a shot to the leg from Jonny Brodzinski.
MacMillan went down the tunnel and didn't return until his teammates helped him onto the ice as the seniors were honored after the game.
"It's obviously very tough," senior Michael Parks said. "It's a big loss for the team … It's tough to see that happen. But under the circumstances, he did the right thing blocking a shot and he's going to be harder to replace, but we've got to look past that and move forward."
This is a team willing to leave it all on the line. With the arena loud and North Dakota successfully killing the penalty, the team knows the value in having players like MacMillan willing to step in front of Brodzinski's shot.
"We had everyone blocking shots and he might have the hardest shot in all of college hockey," Parks said. "Seeing MacMillan do that, and (Troy) Stecher blocked a few, that just shows that everyone is all in and we're really committed to the team and to every guy."
North Dakota has lost once in its past 13 games. Last season, the stakes were much different. The team's only chance of making it into the tournament depended on the fate of other teams.
But the team took that in stride.
"The makeup of our team is pretty similar to last year," Parks said. "I think we went through a lot last year. You learn from losing and I think we can refer back to that and use it to our advantage. We clinched a share of the Penrose this weekend. Last year we had a few opportunities to do that and we didn't capitalize. We made sure we didn't do that again."
Elizabeth Erickson is the sports editor of The Dakota Student. She can be reached at [email protected]