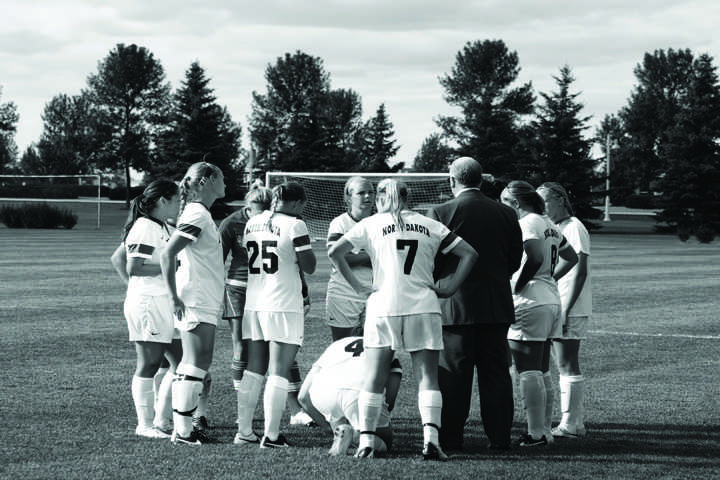 Sophomore Zoe Foster (No. 7) stands with her teammates during the game against Creighton earlier this season at Bronson Field. Foster tallied the team's lone goal last Friday against USD. Photo by Jennifer Friese/The Dakota Student.
Nearly a week before starting league play, North Dakota had one last non-conference game to set its sights on improvement and successful outcomes.
The positive vision may be there, but the team's loss to South Dakota last Friday dropped its record to 1-5-1.
"Today, we just didn't show up to play, and South Dakota took advantage of that," UND coach Matt Kellogg said. "We start conference play next week, and it needs to be better than it was today if we want to win games in the Big Sky. We can't keep relying on just a few people to carry the team. It needs to be a team effort."
South Dakota already put itself ahead in the fourth minute of play, but North Dakota's quick response claimed the equalizer just a few minutes later thanks to sophomore Zoe Foster's first goal of the season.
That tie wouldn't last long as the Coyotes added four more goals, and failed to produce a reaction from the Green and White.
North Dakota will begin conference play this Sunday against Idaho at Pocatello, Idaho.
Staff report