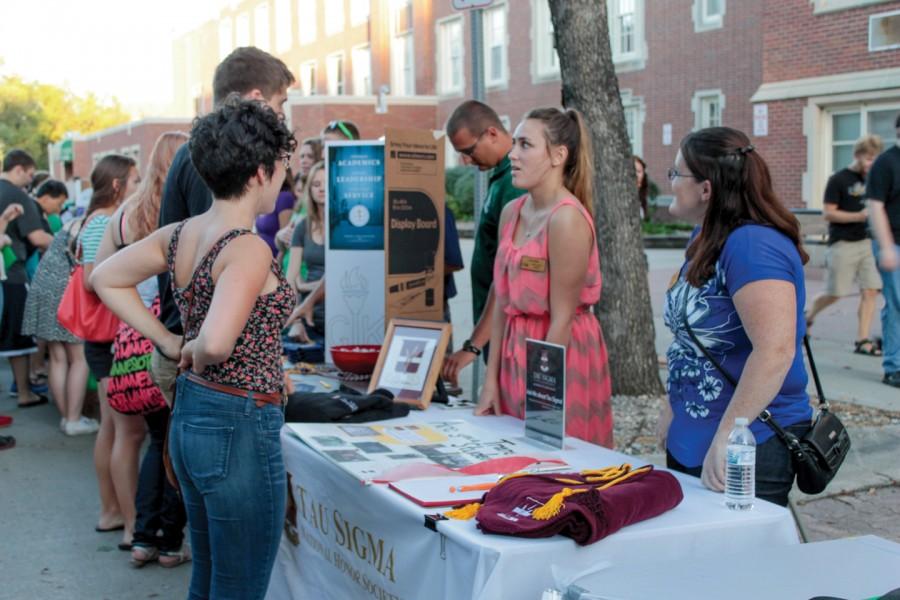 Dakota Student / Jennifer Friese
Students get information on a Greek organization at the student organization fair on Sunday afternoon. Photo by Jennifer Friese/The Dakota Student.
UND Student Involvement & Leadership officials held the first annual Student Organization Fair on Sunday evening behind the Memorial Union that was scheduled as part of Welcome Weekend for the incoming freshman.
Coordinator of Student Organizations & Activities Sara Kaiser was in charge of the fair, which had 100 student organizations represented.
"This is a new event," Kaiser said. "The organization fair used to be part of the Campus and Community Expo, but it was just getting too big."
Kaiser said the turnout was around a thousand students due to the fact that the class of 2018 photo was taken directly before the Union and students had to walk through the fair to leave.
"It was a good opportunity to meet new people with similar and different interests," freshman Kryston Wisely said. "It definitely helped me branch out."
Organizations ranging from Greek life all the way to Chess Club were available to answer any questions students had.
"The workers were very friendly and knowledgeable about their respective groups," freshman Kelly Cahoy said. "Everyone I talked to could answer the questions I had."
"Some of the clubs that stood out for me were Hacky Sack Club, 10 Percent Society and University Democrats," Wiseley said.
A majority of the organizations at the fair were organizations already apart of UND; however, a few new groups were at the fair.
The American Legion Post 401 organization got all of their paperwork in on time to be a new organization for Fall 2014.
They were one of the new groups at the fair.
"We've changed the process and paperwork on the registration for becoming a new student organization," Kaiser said. "There's a lot of new changes… It's been busy but fun."
Although businesses, small profit groups and campus departments were not allowed to attend the student organization fair, they were represented at the Campus and Community Expo that was held Wednesday on the front lawn of the Memorial Union.
"We have so many student organizations that there was a need to separate the (student fair and campus and community expo)," Kaiser said.
Kaiser said that overall she believed that both the Student Organization Fair and the Campus and Community Expo were a huge success.
"I look forward to attending more club events to become fully involved as a freshman in college," Wiseley said. "Welcome Weekend and the student fair was a success for me."
Misti Meads is the features editor for The Dakota Student. She can be reached at [email protected]