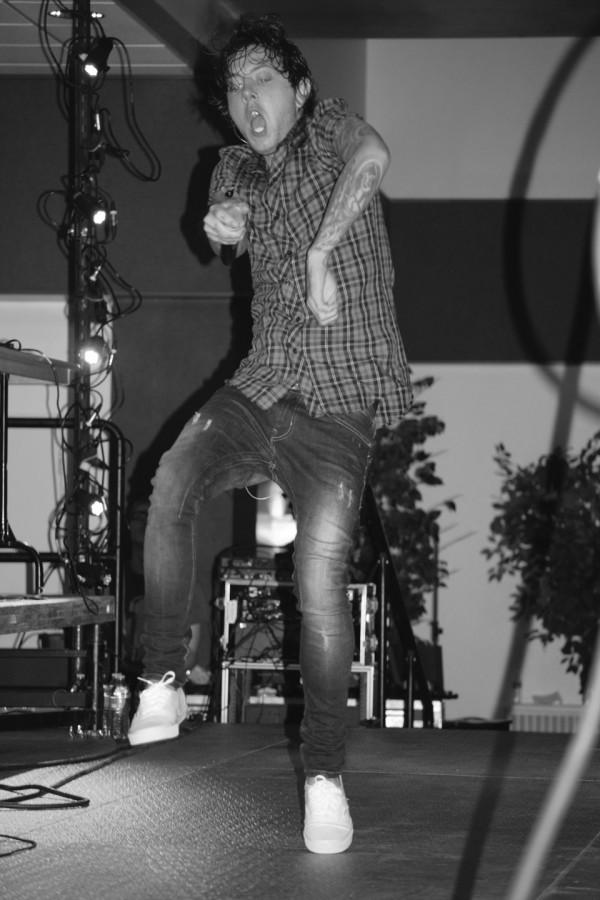 Breathe Carolina singer performs Saturday night at the Memorial Union. Photo by Misti Meads/TheDakota Student.
The Welcome Weekend Block Party wrapped up the first night of events for incoming freshmen on Saturday evening at the Memorial Union.
Breathe Carolina and opening act Noah Guthrie performed, while students dance, mingled, and ate free food provided by the UND Office of Enrollment Services.
"I liked the first band because it got everyone a little sociable," freshman Isaiah Schwindt said. "It was fun just getting to meet new people."
However, not all students enjoyed Noah Guthrie as the opening act.
"It was too romantic," student Sosiane Chaeeieb said. "I want to dance and move, not fall asleep."
Noah Guthrie played as the opening act for nearly two hours before Breathe Carolina got on stage around 10 p.m.
"I like (Breathe Carolina),"Chaeeieb said. "I was dancing the whole evening."
"Breathe Carolina came in and just brought the party," Schwindt said. "It was great. I loved it."
The party lasted until nearly midnight, but that isn't new for Breathe Carolina since they have been touring and playing for crowds since 2007.
Welcome Weekend
There are only a few more events left for this semesters welcome weekend.
Friday, August 29 8 p.m. Dakaboom (Memorial Union Loading Dock)
Saturday, August 30 1 to 5 p.m. WilkeFest (Walsh Quad)
Sunday, August 31 1 p.m. Bike Tour of Grand Forks (UND Wellness Center)
2 to 6 p.m. Volleyball Tournament (Walsh Quad)
9:30 p.m. Costume Contest & Outdoor Movie — Captain America: The Winter Soldier (Walsh Quad)
Misti Meads is the features editor for The Dakota Student. She can be reached at [email protected]