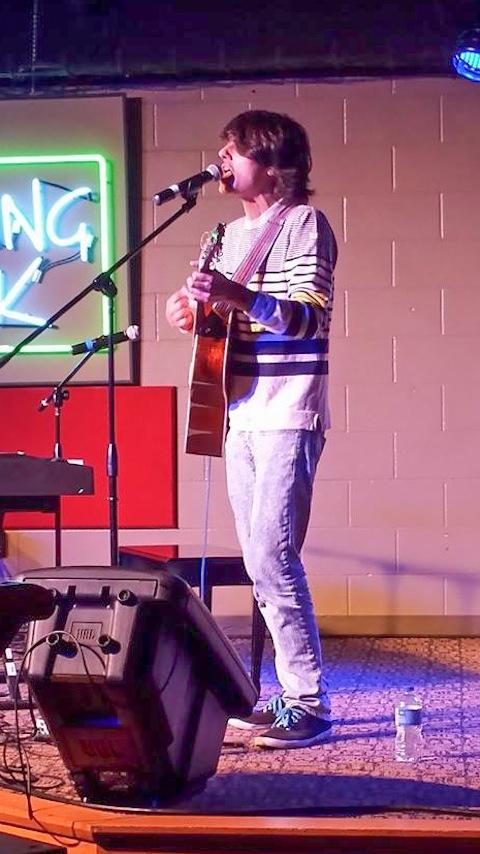 Dakota Student / Misti Meads
Teddy Geiger performs at the Loading Dock Saturday night. Photo by Misti Meads/The Dakota Student.
Singer and songwriter Teddy Geiger rounded off the end of his tour with a live performance and "meet and greet" at the UND Memorial Union Loading Dock Saturday night — hosted by University Program Council After Dark.
The concert was set to start at 8 p.m., but the UND calendar listed the event to start at 9 p.m., which caused several people to show up right when the show was ending, but Geiger still met up with everyone individually after the show to have a photo taken with him.
Even though the Loading Dock wasn't packed full during his performance, the enthused crowd was loud enough to make up for the empty chairs — especially the girls.
Geiger isn't a well-known artist, but he has produced seven albums, co-wrote One Directions' "Little Black Dress" and reached the top of the charts with his most popular song "For You I Will (Confidence)," with which he ended his concert.
His last song was definitely the crowd's favorite part of the night, because everyone actually knew what song he was playing. A couple even got up to dance during Geiger's slow song rendition.
The only other song he played that I knew was his song "Home." He did a great job during this performance, and he was really passionate and into this song both vocally and instrumentally.
Geiger did have some issues throughout the show, but stayed strong until the end.
One mistake Geiger made was when he was singing the song "Little Black Dress." He actually forgot part of the words during the middle of it, but the crowd cheered him on to continue, and he began from a different part of the song and finished it up.
Geiger did tell the crowd that he had been sick and was still sick the night of the performance, but also that he was still stoked to perform at the last stop of his tour.
Although Geiger did seem to complain about being sick several times, he mostly made jokes about it and did a good job of interacting with the crowd and answering their jokes and comments.
One of my favorite parts of the night, other than his last song, was when he did a cover by Ellie Goulding of "Anything Could Happen." This also seemed to be a crowd-pleaser.
Overall, the entire performance had a coffee house vibe to it, and Geiger did a great job of playing the guitar and piano. His show was entirely live so, it was only him singing or him playing an instrument.
His piano and guitar playing seem to be his biggest strengths, because even though he stumbled in his singing, he was always on time with each chord and note.
Geiger is a man of many talents. Between each song he would often stop to tell a joke or tell the crowd something about his personal life. The crowd got several good laughs throughout the entire night.
Geiger's show only lasted an hour, but it wasn't a waste of time to go out and see him perform — mostly because the show was free.
I would give the show a three out of five stars because Geiger for- got the words to his song, he had to take small breaks because he was sick and the event was not scheduled correctly, which was not Geiger's fault.
Geiger is definitely an entertainer, though. He always was either playing his instruments, singing or making jokes to the crowd.
Misti Meads is a staff writer for The Dakota Student. She can be reached at [email protected]