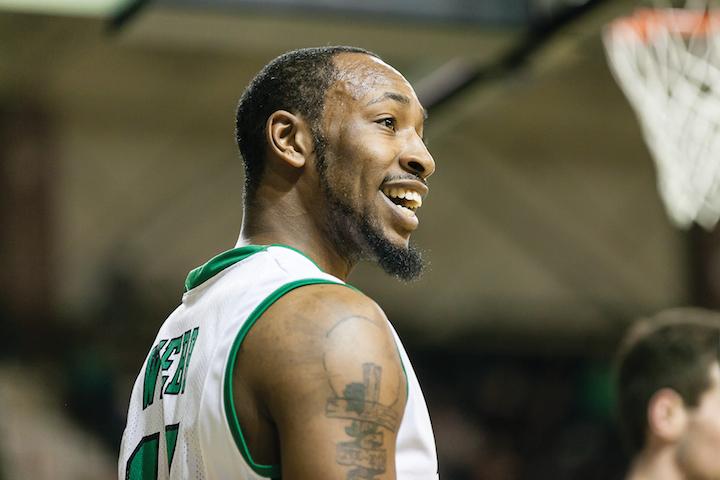 Dakota Student / Keisuke Yoshimura
Jamal Webb smiles after claiming a victory over Northern Colorado last week. Photo by Keisuke Yoshimura/The Dakota Student.
Even though the UND men's basketball team is playing its best ball of the year, that doesn't mean it's not susceptible to slipups.
On Thursday night, UND flew to Southern Utah to face the winless Thunderbirds in a game it was confident it could win. The Green and White left Utah disappointed, losing the game 77-71.
"We just got outplayed tonight," UND head coach Brian Jones said. "From the start to the finish, Southern Utah was the tougher team and deserved to win. We got it going there late, but had dug too deep of a hole to complete the comeback."
In the first half, it was a back and forth game with multiple ties and lead changes. The Thunderbirds went on a late run though to put themselves up 32-28.
In the second half, UND came out slow, and the Thunderbirds made it pay. At one point, Southern Utah had climbed to a 61-45 lead off its balanced offensive attack.
UND would not go down quietly, though. Showing their heart, the leaders rallied the rest of the team and tried to get back into the game.
After a furious comeback, senior Jamal Webb hit a layup that made the game 73-71 with 21 seconds to go. But that was as close as UND could get. Through free throws, the Thunderbirds climbed to the 77-71 lead, and that was enough to end the game.
Jamal Webb had one of his best nights of the season, statistically. He finished the game with 18 points, six rebounds and four assists. Webb also had one steal, and led the team in blocks with two.
Elsewhere, Aaron Anderson made his money on the free throw line. Anderson only went 2-for-7 from the field, but hit 10-for-11 free throws to give him 14 points. Troy Huff had a very uncharacteristic night, shooting only 3-for-10 to collect nine points.
UND shot 20-for-56 from the field and 2-for-19 from three. The Thunderbirds showcased a more efficient 51 percent from the field.
Now that the dust has settled in what had been an unpredictable Big Sky Conference race, UND can focus on the postseason.
In the grand scheme of things, the loss did not hurt the team as bad because Montana lost to Northern Arizona on Saturday. That gives UND the No. 2 seed, a spot up from last year's No. 3 seed. The second seed has put the team in good position to make a long tournament run. The team potentially would not have to play conference-leading Weber State until the championship round.
UND will play No. 7 seeded Sacramento State, a team that it split the series with in the regular season. The two squads will square off Thursday afternoon, in Utah.
Alex Stadnik is a staff writer for The Dakota Student. He can be reached at [email protected]