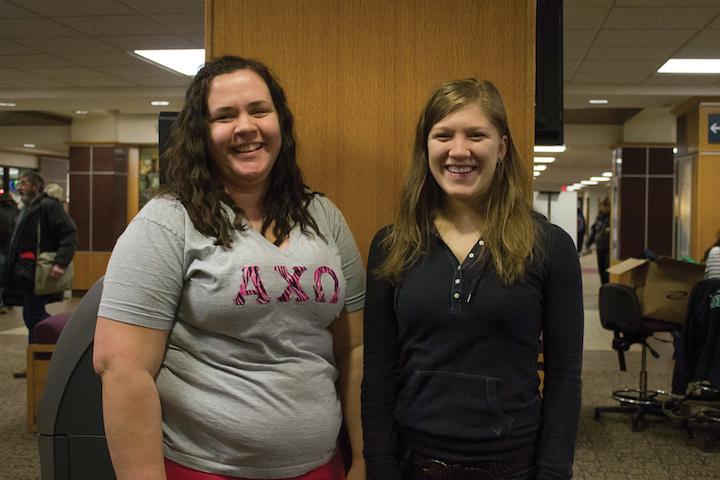 Dakota Student / Jennifer Friese
Students Today, Leaders Forever members Kaci Mobley (left) and Megan Milbrand (right) in the Memorial Union on Monday. Photo by Jennifer Friese/The Dakota Student.
Some students use spring break to relax in warmer places than Grand Forks, but one group of UND students will spend the break doing community service in cities around the country.
Students Today, Leaders Forever is a student organization with chapters across the country, including one at UND, which has been here for nine years. The UND chapter will be participating in the eighth annual spring break "Pay It Forward" tour. Three buses will leave from UND this March, one heading to Washington, D.C., and two to Houston.
This year will be junior Megan Milbrand's first trip as a bus core leader on one of the Houston buses. Her bus will be stopping in Council Bluffs; Iowa, Springfield, Mo.; Memphis, Tenn.; Selma, Ala.; New Orleans and finally stopping in Houston.
"I'm really excited for the service projects," Milbrand said. "It's such a variety of different things. One city we're helping Habitat for Humanity, I think we're helping the zoo in Memphis and the animal shelter in another city."
Milbrand discovered the organization during the Student Involvement Expo last fall. A friend showed her the booth and she signed up for a meeting and later applied for a leadership role on the tour. She will be one of 120 UND students on the buses leaving March 14 and returning March 22.
In 2005, UND was the third school in the country to start a Students Today, Leaders Forever chapter, and the program has sent out more students with each passing year.
An average day for students during the trip starts at 7 a.m. with three hours of service. Students then get a couple hours at the service site to eat lunch, reflect and talk to community members. The afternoons are spent discovering the city for a few hours before getting back on the bus to travel to the next destination.
"We usually get dinner on our own," Marketing and Training Coordinator Ryan Andert said. "We eat a lot of local cuisine. We then go to the housing site and get about an hour and a half to unwind."
Andert went on his first tour in 2012 and said the experience has completely changed his life.
"We spend a lot of time doing personal growth," Andert said. "I experienced what it was like to dive into social issues. I realized I could turn serving others into a profession."
For those participating, whether in their third tour or their first, the excitement to leave is growing each day.
"I'm most excited to be on both sides of it, participating and being a leader," Milbrand said. "I've heard from other people that you build great relationships with the other people on the bus and afterwards you have so many connections. But I'm also excited to see the people in the communities that we help. It'll be really fun."
There are still 10-15 spots available for this year's tour. Information can be found at      stlf.net/chapters/und or by email at [email protected]
"I was skeptical when I signed up," Andert said. "I signed up the week the bus left. I felt uncomfortable breaking social norms, but if you set your doubts aside you will gain something from this tour."
Megan Hoffman is a staff writer for The Dakota Student. She can be reached at [email protected]