I've been taking a class called Toastmasters for a few semesters.
It's a two-credit public speaking class that can be taken up to three times, so if a student takes it for three semesters, they will get a total six credits. Some people end up sticking around longer than that without receiving credit though, just because they enjoy it so much.
The class meets every Wednesday night from about 7 p.m. to 8:30 in a meeting room in the Union basement, down the hall past Terrace. This is followed by Post-Toasties, when the whole class is invited out to dinner at a restaurant near campus, usually the Tavern at CanadInn.
It's worth checking out if public speaking is something that scares you more than rotten Halloween candy; it's just a place to practice and receive constructive criticism without being judged harshly. The class attracts a lot of junior and senior business majors, but it's open to any major and grade level, even grad and Ph.D students.
One of the activities we do every week is something called "Table Topics." A "topic master," who volunteers for the duty in advance, tells three personal stories about whatever they want, and after each one, they invite the rest of the class to come up and tell any similar stories they might have. I want to share a funny one I told recently, about disrespecting authority.
Pennsylvania letters
My former middle school had a letter-cutter machine in their library's back room. It was used to cut out large alphabet letters from construction paper, to spell out words for posters and bulletin boards. The back room that was usually supervised by a library aide and if anyone needed letters, they had to tell the library aide so they could cut them out with the machine.
My eighth grade American history class had to do a group project about the original 13 colonies, where each group made a poster advertising their assigned colony and why people should live there. My group got Pennsylvania, which of course has a ton of letters in its name.
A girl in my group tried to cut large letters out of construction paper but I didn't like how sloppy they looked, so I figured it would be a good idea to head to the library and get letters cut out for us.
For once, there was no library aide supervising the back room, so I walked on in and used the machine myself, something students weren't supposed to do because it was a "safety hazard."
It ended up being very easy to use; I just slid in construction paper and plates for each letter and pulled down a lever to cut them out. I had spelled out all of Pennsylvania within a few minutes, so I walked back to class feeling pretty proud of myself.
My teacher was not so proud though. I ended up getting in huge trouble for "disrespecting his authority" and "sneaking off" to the library to use the "dangerous" letter-cutting machine. I got yelled at very loudly and assigned detention.
Of course, parent-teacher conferences took place the following week and my history teacher told my mom everything. She reacted the same way as my teacher did, by yelling very loudly and locking me in my bedroom for the night. Since I was usually a good kid, this was the most trouble I ever remember getting in during my K-12 years.
All this just because I wanted nice-looking letters for my Pennsylvania poster.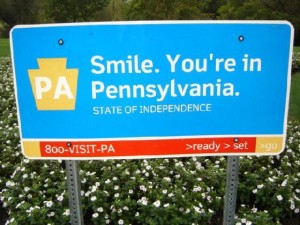 Thanks a lot, PA. Photo courtesy of Resource Environmental Solutions.