Woman left for dead shares story with UND
ATTACK Speaker survives assault from ex-husband, travels to raise awareness.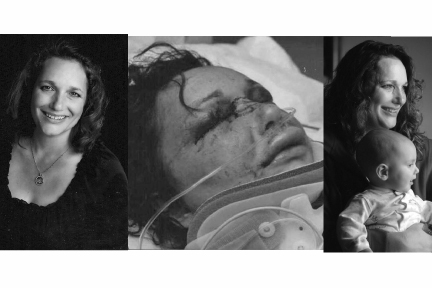 Left: Teri Jendusa-Nicolai survived an attack from her ex-husband in 2004. Middle: Jendusa-Nicolai recovers in the hospital following the assault. Right: Holding her six-month-old son Benjamin, Jendusa-Nicolai is pictured here three years after the attack. Photo credit (l-r): osloentertainment.com, journaltime.com and wgntv.com.
Nine years ago, Teri Jendusa-Nicolai was fighting for her life from the inside of a garbage can.
She had been placed there by her ex-husband David Larsen after he beat her on the third anniversary of their divorce.
With their two children in the car, Larsen drove the garbage can to a storage locker and left Jendusa-Nicolai to die in the cold of a Wisconsin winter.
Frostbite set in and claimed all of her toes.  Worse, the ordeal cut short the life of the unborn baby she was expecting with her second husband.
What the attack did not take from her was her life, as police were able to rescue her in time.
A year later, Jendusa-Nicolai made the decision to share her story in hopes of educating men and women about domestic abuse.
Monday night, she made a stop at UND. Her visit to the Memorial Union Lecture Bowl was coordinated by the the University Programming Council, the UND Women's Center and the UND Counseling Center.
Finding words
While she has been speaking for many years, Jendusa-Nicolai sometimes struggles with her story. But she finds the strength to continue in the lives she knows she touched.
"I think, sometimes before I go some place, I have to bring this up all over again. But when I get there, and I see the people and how they're reacting — they need me to do that. And it makes me feel good," Jendusa-Nicolai said. "I might say 10 things or one thing that's going to change their life and then I have a high after that, and I feel really good. So that's what keeps me going."
Jendusa-Nicolai began the event by playing ABC's "20/20" special that aired almost a decade ago. She then began to describe her relationship, previous to her marriage, with ex-husband David Larson. She addressed key signs and sneaky behaviors that are often overlooked in the main tactic of the abuser such as control and isolation.
Jendusa-Nicolai noted that self-esteem plays a key role in the abuser gaining power over the victim. She constructed a method that she encourages anyone to use for any purpose.
"Just write down five good things about yourself. Finish the sentence 'I am…' with everything you know about yourself. Validate yourself," she said. "And you're making yourself stronger by writing it down on paper and looking at the kind of person that you are, and you're being proud of who you are.
"And it (makes) it really hard for someone else to come down and break you down."
Help each other
Although the audience was mainly female Monday night, a handful of men were spread throughout.
Jendusa-Nicolai said domestic abuse is not gender specific, and men who attend these talks can be important allies.
"When I started this in 2005, it was all women. And the more it went on there were a couple of guys. And sometimes they go and its half and half. Guys are really becoming more a part of this. That's really important because it's not a women's issue, it's a social issue," she said. "Everyone needs to get involved. If guys see their friends or their peers acting a certain way toward a woman, they should say, 'That's not cool, we're not putting up with that.' They really play a role, and its important."
Jendusa-Nicolai thanks her family and friends for the support they provided throughout her marriage those who would also like to support those they know who are involved in any from a domestic violence.
"Your first impulse is to fix it for some one and  it's good, in a way, because they need to know you're there for them," Jendusa-Nicolai said. "You need to give them the resources they need, it could be a Women's Center number or 'I'll take you to the counselor' or whatever."
She understands it may not be easy knowing someone is involved in abuse, but forcing help upon the victim may not be the solution.
While many believe they don't know anyone experiencing domestic abuse, Jendusa-Nicolai believes people should be informed and care.
"They'll be surprised that they probably do know people that are going through that, but it's just not out in the open. Somebody that they know is somehow affected by dating or domestic violence," Jendusa-Nicolai said. "Even if not, why would we want to be selfish and say we don't care because it's not happening to me? We need to care about one another and make our community a better place for everyone."
Paula Kaledzi is a staff writer for The Dakota Student. She can be reached at [email protected]