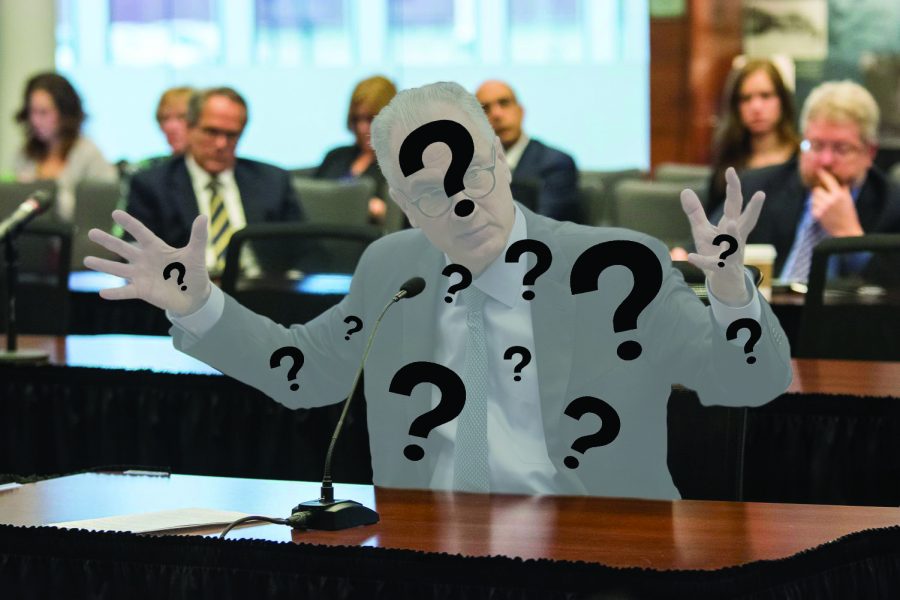 Trevor Alveshere
With former president Mark Kennedy's recent depart from UND, the hunt for a new president is underway. The new search committee, made up of 11 scholarly people, are currently reviewing applicants for the next president of UND. 
After the UND Presidential Search Committee began their search for a new president, they have been working hard actively holding listening sessions via interactive network throughout the state and having local sessions for faculty, staff, students and community. Listening sessions are a great way for the community to keep up with what is happening and understand how to voice their opinions. 
During the listening sessions, two questions are posed. 
"What do you want to see in a new president" and "Are there items or issues that you want the search committee to be aware of?" 
This is where the community members' voices are truly heard and valued.
Co-chair of the UND Presidential Search Committee, Dr. Dennis Elbert, UND alumni and former dean of the UND College of Business & Public Administration said that there are five common points brought up in all listening sessions regardless if it is held with staff, students or community members that are attending. 
The common points that are presented are: will they be a servant leader? Are they concerned for others and our school? Will they be visual within the campus and community? Will they prioritize relationships within the community? Lastly, do they have a passion for UND?
All these factors are commonly brought up within the listening sessions and will surely be taken into consideration within the process of the presidential search. 
Currently, there has been a great amount of interest in the position, with roughly 50-60 applicants from all around the country. 
"Because we have such a great number of applicants, I believe that we are going to get a good pool of candidates," Elbert said.
 Once all the applications are in, the search committee holds preliminary interviews in which they narrow it down to six or seven semi-finalists, which are unranked. Once the semi-finalists are revealed, they will then have an on-site visit in the beginning of November. After the on-site visit, the committee narrows it down to three applicants who will be interviewed on Dec. 3. The nominated president's term will officially begin July 1, 2020.
Because of limited time, the Presidential Search Committee has been making changes at a faster rate than in the past; however, they do believe they are working effectively and efficiently. 
"We have a very good committee that is dedicated to working hard, which allows for a shorter timeline," Elbert said, "regarding the nominees, we have a large pool with some really great folks to choose from, I definitely think that we will find a great fit for UND."
If you have any questions regarding UND's presidential search, you can reach the president's office at [email protected]. 
The UND webpage is also currently updated with times and dates of listening sessions for students, staff, faculty and community.