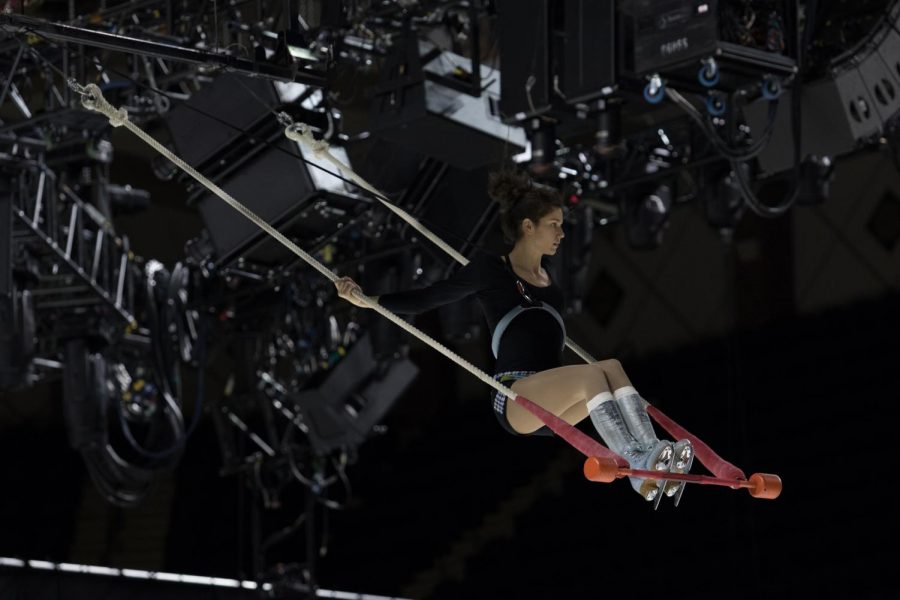 Trevor Alveshere, Dakota Student
Cirque du Soleil is turning the Ralph Engelstad Arena into an ice covered set this week until Sept. 30 with their show Crystal. The home of UND Hockey became the local pond in a small town. Cirque du Soleil may be known for their acrobatic feats, but with Crystal, they pushed their boundaries into ice skating and put storytelling front and center.
Julie Desmarais, the publicist for Crystal, believes this show is all about pushing boundaries, both in acrobatics and in storytelling.
"Ice is something that Cirque has always been interested in," Desmarais said. "We were inspired by the ice."
Crystal is an awe inspiring spectacle. Handstands on chairs, skaters on trapezes, an ice piano, skating clarinetists, skateboards on ice and a juggling battle kept the audience's attention, but the artistic resources they tapped into bring the best part of the show to life.
In this production, Cirque du Soleil uses more artistic resources than imaginable. Ice skating, acrobatics, dance, gymnastics, poetry, music (some of it live) and visual art projected onto the ice morph together to form Crystal's story, which in a way is the story of all of us.
The story of the show follows a young woman named Crystal through a journey of self discovery and taking back her own power. Crystal can't find acceptance for who she is from her family, friends or schoolmates; they view her as too unusual. She feels fractured and isolated by their rejections of her individuality and pursuit of what she
finds beautiful in life and seeks solace in ice skating on her local pond. The ice cracks and she falls through into a dreamlike world that she "recognizes, but does not understand." In this dream world, she learns to take back the power over her life and self she forgot she had, gains confidence in who she is and develops a fire inside of her to go back to the surface and live.
One of the acrobats, John, came to Cirque from Leeds, England. He found the storyline to be the most compelling aspect of the show.
"My favorite moment in the story is the final scene, when they project the video of Crystal breaking through the ice," John said.
The scene John speaks of, the final breakthrough moment when Crystal pounds on the ice barrier she is trapped under and breaks through it, is the final, decisive moment in a roller coaster of storytelling. Inside herself, Crystal has found the will to fight for herself.
"We chose this storyline because we were inspired by the ice element and we wanted to connect with the audience," Desmarais said. "A lot of people can relate because we've all felt like we don't fit. We've all been in places we don't feel like we belong, but we all have the strength inside ourselves."
Crystal is a breathtaking aerial display that sparkles on the ice. From complex footwork in figure skates to gravity defying aerial stunts, don't miss out on this amazing show. Tickets can be purchased online or at the door of the Ralph Engelstad Arena.