Foster flies high

The accomplished pole vaulter prepares for outdoor season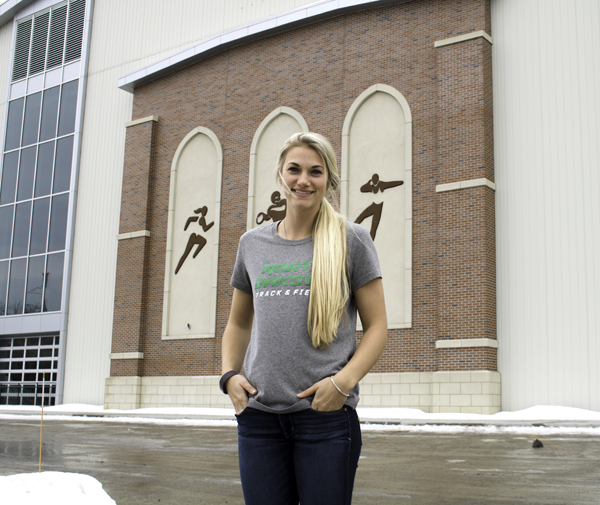 Kyley Foster is a junior at UND who has just recently added to her long list of accomplishments by finishing third in the pole vault at the Big Sky Conference Championships for indoor track. Foster also holds the school record in both the indoor and outdoor event, with a vault of 4.01 meters (13 feet 1.75 inches) and 4.06 meters (13 feet 3.75 inches), respectively.
In high school, Foster competed in a wide variety of sports. She was in basketball, soccer, swimming and diving, gymnastics and track and field. Her pole vaulting career began early at 12 years old. She was encouraged to try pole vaulting because of her background in gymnastics.
"I began cannonballing over the bar when I was around 12," Foster said. "I was a gymnast, so they wanted me to try pole vaulting since they thought I'd have more upper body strength. I believe it took until my sophomore year of college before I actually had upper body strength, so it was a nice thought."
Although she jokes about lacking the upper body strength necessary for pole vault, Foster was very successful in high school as well. Her senior year she placed seventh in the Minnesota State High School Meet for Class AA with a vault of 11 feet.
Following high school, Foster was able to settle on UND pretty easily after touring the campus and meeting some teammates. She knew it was the place for her.
Since Foster has been at UND, she has broken the school record in the pole vault as well as her own record multiple times since then. She has also finished with all-conference honors in the past three consecutive Big Sky Conference meets (indoor 2017, outdoor 2018 and indoor 2018).
Although anyone looking at her list of accomplishments could only dream of such things, Foster isn't satisfied.
"I did not achieve everything I wanted during indoor season," Foster said. "I was hoping to jump somewhere around 13 feet 5 inches to 13 feet 7 inches but couldn't quite pull it off this season. I am excited for outdoor because I've had some nice attempts around the mid 13 foot range, so hopefully within these next few meets I'll reach it."
Approaching outdoor season, Foster has goals that look lofty on paper. However, by going into each meet with a strong mindset and a good support system she has the world at her fingertips.
"My biggest fan is Jesus, He's always got my back," Foster said. "Closely followed by my awesome parents, whose support is incredible. They always say they come to my meets just for a hug and a smile."
Anyone who has met Foster would agree that she's the first person to make sure everyone else is being supported. Putting others before herself is something that seems to come so naturally to her, but once she reaches the runway her vault becomes a completely personal experience.
"Pole vault is a mental game. The technique is difficult too, but pole vault is a very mental sport. There's always a little bit a fear whenever you grab a big stick you've never jumped on or the bar raises higher than ever before. You need to be able to commit 100% to the jump. If you don't, that's when things can go wrong," Foster said.
Madison Overby is a sports writer for the Dakota Student. She can be reached at [email protected].