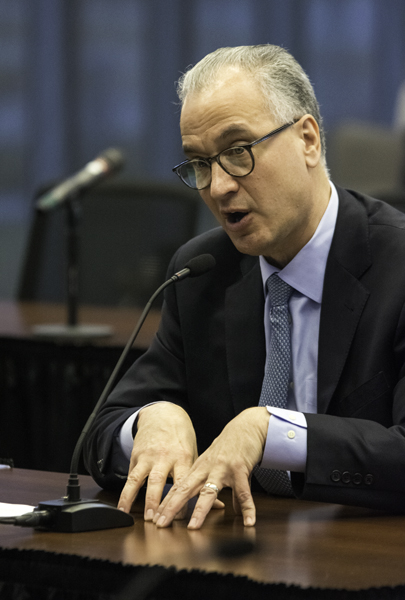 Dakota Student File Photo
The University of North Dakota's president may become the University of Central Florida's president.
Last week, President Mark Kennedy and other candidates for the position were in Orlando on the campus of UCF, interviewing in front of a 15-person UCF search committee.
At the UCF interview, Kennedy was the only candidate with a non-academic background.
Two years ago, Kennedy was also the only candidate without an academic background interviewing for the UND presidency, but Kennedy is not one to shy away from his lack of experience in academia.
In the UCF interview last week, when Kennedy was asked about his non-academic background, he said, "If you want two provosts, look for someone with a traditional academic background.  If you want somebody who does what presidents do, which is raise money, build partnerships, worry about campuses and communicate and attract students and make sure the marketing is focused on students and not on the chamber of commerce, then hire a president."
Kennedy's business and political background is further evident in his eight-page, pictured cover letter, which showcases a stark distinction from the other three finalists' two-page traditional cover letters.
Following the interview, UCF's 15-person search committee selected Kennedy as a finalist and invited him back to UCF for one final meet and greet with the UCF community.
Next Wednesday, March 7 at 11 a.m., President Kennedy is scheduled to present his qualifications and intentions for the UCF presidency at an open forum.  The UCF community and public will be in attendance.
On March 9, UCF will announce their next president.
"The University of North Dakota is a great place to be and a great place to be president," Kennedy said. "I hope that the UND community understands that while this may be a momentary distraction, I am committed to moving forward with the same fervor and level of energy. My advice is for the UND community to continue to work together to reach the goals we collectively set through the One UND Strategic Plan process."
André Marquis Washington is a news writer for the Dakota Student. He can be reached at [email protected]